Hydraulic fittings connect hose, pipe and tube to components such as hydraulic manifolds, cylinders, various components or other hoses- you already knew that, otherwise you wouldn't be on this blog! BUT did you know the different types and applications of hydraulic and certain pneumatic fittings?
1. NPT (National Pipe Taper) and NPS (Nominal Pipe Size) fitting thread are at a 60° angle and have flattened crests and roots. Having been around for over 100 years, this pipe thread style is one of the most popular in North America. NPT male threads mate with the female to create a mechanical wedge essentially crushing the threads together. NPT fittings are commonly used in construction, agricultural and industrial equipment as well as plumbing and automotive applications.
2. JIC (Joint Industry Council) SAE J514 fittings are a compression style and often considered the most popular hydraulic fittings in fluid power. Their 37° flare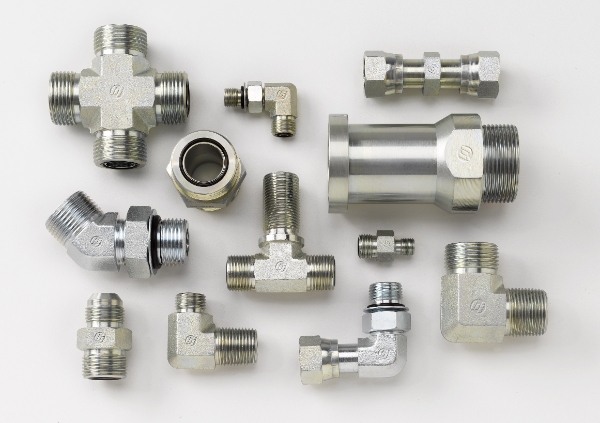 seating surface incorporates straight, parallel threads to form the seal, rather than tapered threads or O-ring use. They can withstand pressures of up to 10,000 PSI and are often used in the aerospace, military and automotive industries as well as in construction, agricultural and other heavy equipment.
3. ORB (O-ring boss), also known as SAE J1926 Straight Thread O-ring Boss fittings, have straight threads and seal using an O-ring located at the base of the male thread on the wrench flats. The O-ring seals between the male and a machined seat in the female port to provide minimum spotface, which is an adequate depth to allow sufficient wrench grip when tightening the fitting. O-ring boss fittings are used in many industries to join hoses, tubes and pipes for fluid transfer. They are frequently used for connection to valves, cylinders and pumps where a leak tight seal is required.
4. ORFS (O-ring Face Seal) SAE J1453 fittings have an O-ring recessed into the face of the fitting and are ideal for hydraulic system leak prevention in vibration and impulse conditions and are capable of handling operating pressures up to 6,000 PSI. ORFS fittings are widely used in off-road, construction, and agricultural equipment which experience high vibration or shock, and are also common in petrochemical and
shipbuilding industries.
5. Tube Fittings and Adapters encompass a wide variety of connections referred to in this article, including NPT, JIC and O-Ring Boss fittings. Plus, adapters, caps and plugs that range from applications of connecting hose barb to NPT or JIC SAE 37° reducers and many others.
6. Flanges are typically larger in size, from ½" to 2" and used to connect pipes, valves, pumps and other system equipment that experience very high pressure and vibration, where the flange is used to connect two pipes. Of the two most common types, SAE Code 61 flanges are used in lower pressure applications requiring between 3,000 and 5,000 PSI, and Code 62 is used in higher pressure applications of up to 6,000 PSI. Comparatively, Caterpillar OEM equipment uses similar 4-bolt flanges of their own, which are NOT interchangeable with SAE flanges- primarily due to their variation in thickness.
6. Instrumentation Fittings, also known as compression fittings, are used in control and process measurement systems, as well as cryogenic applications. They are available in two styles: single or double 'bite-type' ferrules and are used to connect tubing and convey gases or liquid. There are three components: the body, nut, and ferrule; which, when assembled, slide onto the tubing and seat (or 'bite') into the tube. The nut is turned a specified amount to properly grip the tube to ensure a leak-free connection. The pressure rating of instrumentation fittings is equal to the maximum allowable working pressures of the tubing, withstanding temperatures from cryogenic to very high heat- again dependent on the tubing specification. For more information, check out Essential Instrumentation Content.
8. BSP Fittings (British Standard Pipe) threads are the UK's most popular fitting. JCB, one of the world's largest manufacturers of construction equipment, uses BSP fittings almost exclusively. BSP fittings have their own unique seat and thread angles and are not to be interchanged with other similar style of fittings. BSP male fittings incorporate a conical 30° seat, which mates with the associated 30° conical cone seat female port or fitting. The 55° thread angle of BSP fittings are available in two thread types for differing applications.
BSPP fittings have parallel threads and seal with an O-ring or bonded washer.

BSPT fittings have tapered threads that create a metal-to-metal wedge to seal the threads. It's also important to use a thread sealant with BSPT connections.
9. Bite Type Fittings follow the SAE J514 24° inch measurements flareless compression fitting specification and are also available in DIN 3852 metric sizes. The fitting body has a 24° tapered throat, where the tightening of the nut presses a ferrule into the tube.
10. Flare-O Fittings incorporate a SAE 37° flare to NPT adapters. Their elastomeric O-ring
seal provides a leak free connection and are a perfect drop-in replacement for SAE 37° flared tube fittings. Their exceptionally tight seal is ideal for connecting hose or tubing in high temperature and/or pressure applications.
11. Weld Fittings are used to join components to pipe, hose or other fittings for extra protection against leaks. They are also used when structural integrity or permanent piping connections are required, for ASME pipe applications, as well as where there is conveyance of toxic or flammable liquids, gases or steam.
12. Metric Fittings are the most commonly used around the globe, primarily in Europe and Asia. There are three most frequently used styles, each principally used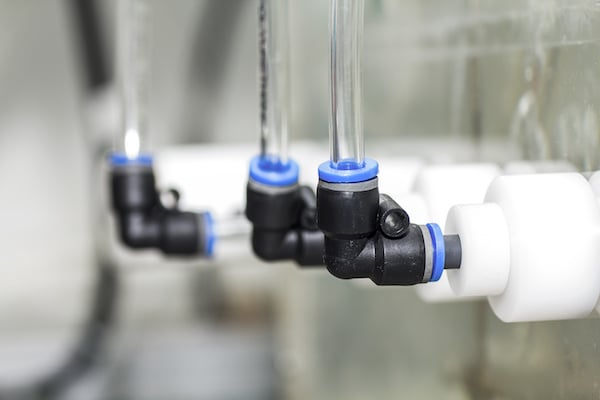 by different OEMs and in separate regions.
Metric DIN 2353 fittings are the most widely used bite-type fitting globally. The seal is established simply by tightening the nut on the male fitting, wedging the bite sleeve onto the standpipe tube without the need for an O-ring.

JIS (Japanese Industrial Standard) metric hydraulic fittings are used primarily in Japan and throughout Asia.

Komatsu, a Japanese multinational OEM that manufactures heavy equipment from construction to military and industrial machinery, uses a specialized metric 30° flare fitting which provides superior performance in their equipment applications.
13. Push to Connect Fittings are normally made of nickel-plated brass or a glass-reinforced thermoplastic. They serve as quick connect and release fittings simply by pushing the collar back and sliding the tube into the fitting. Though they are used in many water and air/pneumatic transmission applications, they are best known for their use as D.O.T. (Department of Transportation) air brake fittings for trucks, buses and other large vehicles. There are many additional applications too, such as adapter styles like fractional inch tube to male NPT.
Whatever your application, it's imperative to select the proper components- because your hydraulic system is only as good as the fitting!