Hydraulic fittings with metric threads are the most common connectors worldwide. The three primary styles used in different regions and by specific OEMs are:

DIN Metric fitting standards cover hydraulic hose fittings and compression fittings. DIN, along with BSPP (British Standard Parallel Pipe) are the most frequently used thread types in Europe, while BSPP are also the most common in Australia and other commonwealth countries. However, the metric DIN 2353 fitting is the most widely used bite-type fitting in the world and does not require an O-ring to provide a leak-tight seal.
JIS metric fittings are most frequently used as hose adapters on equipment manufactured in Japan and Korea. They incorporate a 30° flare and 60° cone connection and typically include BSP threads. Kobelco, a major Japanese OEM construction machinery manufacturer, uses Japanese hydraulic hose and JIS hydraulic fittings.
Komatsu metric 30° flare is one of the most common specialized fittings for a specific OEM mobile equipment manufacturer. While most other OEMs rely on common industry standards, Komatsu has developed this proprietary fitting that is superior in applications on their own equipment.
The Various Styles of Metric Fittings
Setting aside BSP and BSPP threads, in Europe and other regions, metric DIN 2353 and ISO 8434 threads are found in standard tube compression fittings with a 24-degree cone connection. The metric thread of the DIN 20078 series also incorporates a 24-degree cone, while metric DIN 7631 has a 60-degree cone in hydraulic systems. Metric DIN 74234 and 74233 fittings have a 45-degree cone.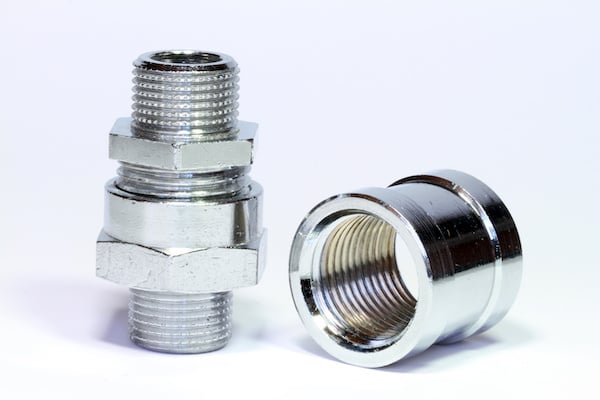 The Japanese metric thread of Komatsu fittings have a 60-degree flare for hose adapters, following the JIS B2070 specification. Typical in France, Japanese-owned OEM Kobelco French G GAZ fittings have a 24° sealing surface with metric straight threads. They are similar to German DIN fittings. Though the French G GAZ have fine threads in all sizes, German DIN fittings use standard threads in the larger sizes.
Metric fittings have either parallel or tapered threads. Metric parallel threads utilize a variety of methods for sealing connections. As with other fittings, a parallel thread in a port application usually seals at the top of the thread with an O-ring or other seal. The O-ring is reinforced with a back-up washer and nut for correct orientation of the connection. A leak-tight seal is created as the O-ring is compressed when mating the male and female (or port) connection. For example, British threaded JIS B2351 and Metric ISO 6149 both have O-ring elastomeric seals at the base of the threaded connection. Comparatively a tapered thread fitting simply seals with wedging of the metal-to-metal threads. Additionally, the O-ring seal in the JIS B2351 thread port provides good vibration resistance in construction and frequently actuated industrial machinery. They are also often used in the sealing port of Japanese hydraulic fitting studs.
To identify metric threads, follow the steps below to ensure you're making the right connection:
Check the threads to identify if they are tapered or parallel.
Verify the thread pitch (distance between adjacent threads) is millimeters by using calipers or a thread gauge as 1.0, 1.5, or 2.0.
Using calipers, identify the thread outside diameter (O.D. of male thread) and/or inside diameter (I.D. of female thread).
Find the closest match on the chart below. Thread O.D. and pitch indicate the Thread Identification, i.e., M8 x 1 has an 8mm O.D. and a 1mm pitch.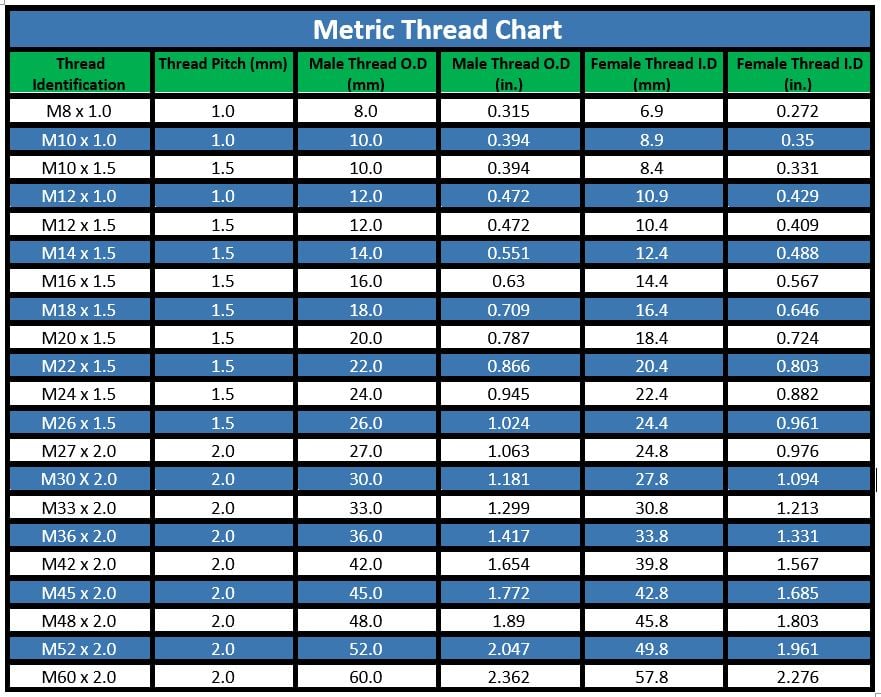 The Practicality of Metric Threads
You rarely have a choice between using Imperial or metric threads in maintenance. You often must use what the OEM specified. However, though there are different styles of metric threads, they are more advantageous than Imperial for many practical reasons.
Metric is a simple form of measurement, with everything in 1/10 increments as a base of whole numbers. Beyond ease of extrapolating data, their common sizes can help reduce the number of fittings on a bill of materials.
They are far more interchangeable in the global market than Imperial fittings. In fact, interchangeability was the key reason the automotive industry moved to metric threads for many connections, from fasteners to fittings.
As the most precise form of measurement, like automotive, the metric system has been either partially or fully embraced by major segments of the aerospace, medical and electronics industries.
Metric threads are often a better choice for vibration resistance and in providing a larger stress area in the cross section of the threads.
These are just a few benefits of metrics that can add to long term cost savings in design, manufacturing and assembly, as well as the service life of many components.
Sources Include: