Push-to-Connect fittings are typically made of a glass reinforced thermoplastic or nickel-plated brass. They are commonly used with polyurethane or nylon tubing. However, some applications using brass Push-to-Connect may call for brass tubing and provide excellent leak-free and secure connections for gas, air or liquid flow applications. They are available in both Imperial and Metric sizes. Additionally, stainless steel Push-to-Connect fittings are used in special applications requiring increased durability, while providing good corrosion resistance.



As the name implies, Push-to-Connect fittings allow quick connections just by pushing the tube into the fitting. There is no need for tools, glue or solder. Simply insert the tube into the fitting until it bottoms out. An elastic grab ring with radial claws and an inner nitrile O-ring holds the tubing in place. To remove the tube, press down on the push-sleeve and slide the tubing out.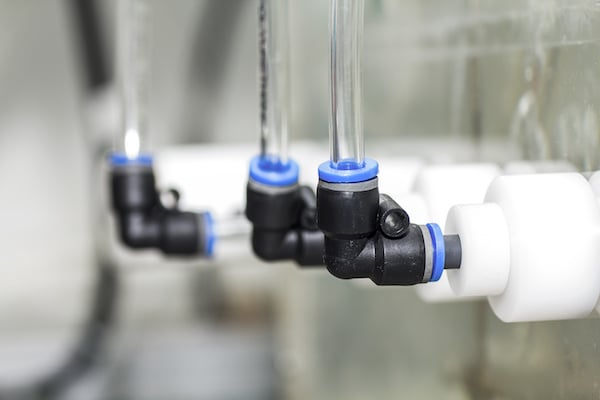 Push-to-Connect fittings are often used in pneumatic applications. One of the most widely recognized is Department of Transportation (D.O.T.) approved air brake fittings and tubing. Their compact and lightweight construction makes them ideal for installing in confined areas, such as air brake lines on heavy trucks, buses, fire trucks and even trains. They include a ring inside the fitting that acts as a tube support, required by D.O.T regulations.
Operating conditions for D.O.T air brake fittings are specified up to 250 psi and temperature to -40° F. Air pressure is transferred via a compressed-air-brake system including a supply and a control system, connected by Push-to-Connect fittings. Most vehicles with air brakes have a graduated release, giving a partial increase in pressure to deliver a proportional release of air in the brake line. Without a graduated release of air, a simple tap on the breaks would bring the vehicle to a screeching halt.
Nickle-plated brass Push-to-Connect fittings are more durable then composite (thermoplastic), can handle a higher temperature range and offer greater corrosion resistance.
Industrial Push-to-Connect fittings operate by the same principle and are an ideal connector in many water and other beverage applications. They are also used heavily in general pneumatic powered industrial systems and pneumatic applications that require meeting or exceeding the UL 94V-0 standard for flame resistance.
Beyond air brakes and industrial applications, Push-to-Connect fittings are ideal for use in many plumbing applications, including potable water, water heaters and hydronic heating systems. They are frequently used in commercial and residential construction and are well suited for wet repairs with no drying time required. They are also approved for underground and behind walls-- even without access panels, due to their long service life. They rarely leak when installed and applied properly.
Push-to-Connect fittings are a far more economic choice for their applications. Although they cost more than compression fittings, their quick installation, reduced need for maintenance and leak free connections easily make up for the slightly higher cost. Additionally, their compact design is ideal for positioning in tight spaces.
Conclusion
Push-to-Connect fittings are widely used in mobile, construction, beverage equipment and in-plant applications involving water or compressed air. They are available in nickel-plated brass, thermoplastic composite materials and stainless steel, available in a wide range of configurations and sizes, including tube-to-tube and tube-to-NPT thread (both male and female).