The term "tractor" is a broad category. There's more than the typical green John Deere tractor we all know so well. Yet John Deere, Caterpillar, Case, Bobcat, Kubota and other OEMs make high horsepower tractors with enclosures, heavy duty ATV's (all-terrain vehicles) and UTV's (utility task vehicles). ATV's and UTV's are often found on farms of any size and frequently used in similar applications to the common tractor. In fact, the most common type of agricultural or farm equipment is the tractor. Followed closely behind byNext in line comes balers, plows, loaders, mowers, planters and sprayers - each of which is towed, pushed or operated by - you guessed it . . . a tractor.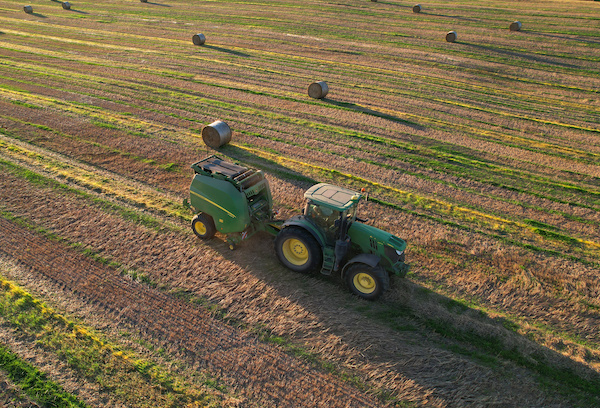 Common Hydraulic Fittings used on Tractors
The most commonly used fitting on tractors is the quick connect couplers. Because the hydraulic hose on all of the equipment referred to above is
frequently connected and disconnected from the tractor, no one wants to disassemble and reassemble face seal fittings (or especially JIC 37-degree flare fittings, which in some cases really shouldn't be reassembled.) In fact, though many industry experts agree JIC fittings are reusable, they may not be reliable if reassembled multiple times. Moreover, JIC 37-degree flare fittings are often considered the most questionable fitting style for reassembly. On the other hand, O-ring face seal (ORFS) fittings are often used on tractors and are safer to reassemble. However, disassembly and reassembly of these types of fittings is very time consuming. Instead, when connecting hoses between attachments, such as plows and loaders, it is done quickly and easily with quick-connect couplings. Typically, ISO 5675 and ISO 7241-1 quick connect fittings are used to join the hose by hand between attachments on farm tractors. Simply pull the collar back on the female connection and insert the male end. Let the collar slide back and you have a secure leak free, multi-use connection.
Though it's important to understand, when we say quick connects are the "most commonly used", we refer to how often they are connected and reconnected, not how many are used on a tractor. Because in fact, JIC 37-degree flare and O-ring Face Seal (ORFS) fittings are more common in making permanent hydraulic hose connections on a tractor. Hoses that run fluid to operate the moving components on a tractor's front end loader, bailer or other attachments use traditional hose fittings such as JIC or sometimes ORFS.
Which Fitting and Why?
The JIC 37-degree flare fitting consists of a male and female connection with a 37-degree flared seating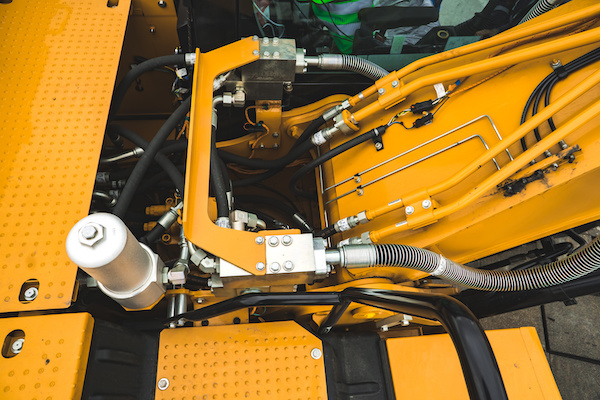 surface. JIC fittings are ideal in pressurized lines (1000 psi to 5000 psi) in tractors and their associated equipment, such as hydraulic loaders, excavators and others listed above. They provide an easy-to-assemble and reliable solution for fluid power system connections, ensuring safe and efficient operation of equipment.
O-ring face seal SAE J1453 fittings are also common in hydraulic hose lines on off road equipment such as tractors and other agricultural equipment which experiences frequent vibration. The O-ring helps make a more flexible seal which can withstand the vibration and actuation of components to help reduce incidences of fluid leaks. The ORFS has straight threads and an O-ring in the face of the male fitting, where the female connection has a machined flat face where the male O-ring seats and has an operating pressure of up to 6000 psi. They are ideal for reducing or eliminating potential leak points during heavy vibration in tractors and other off-road agricultural equipment applications.
Conclusion
Tractors are pervasive in the farming world, found at every farm from small family owned to large industrial agriculture operations. Tractors manufactured by Mahindra, John Deere, Caterpillar, Case, Bobcat, Kubota, Massey Ferguson, Sonalika and any other brand are used to operate a wide variety of attachments making them the true workhorse of any farm. All operated by hydraulic cylinders, pistons and other components which incorporate JIC 37-degree flare and O-ring Face Seal fittings, and quick connect couplers for fast and easy connection of attachments.
Sources: