Code 61/Code 62 Caterpillar® Flange (SAE J518)
In referring to the various types of flanges used in the world markets, it is important to make the comparison to the Caterpillar Code 61 and 62 flange (SAE J518). As with other flanges, the female porthole on the Caterpillar flange is unthreaded with 4 bolt holes surrounding it at the corners. The male has a flanged head with an O-ring grove and with holes to match the port.
The O-ring seal is compressed between the flanged head and the flat surface around the port where bolts hold the connection.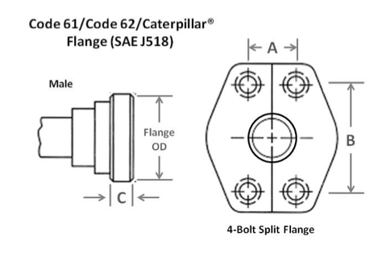 The Caterpillar flange is frequently used on pumps and motors in fluid power systems throughout the world market. The compatible fitting is available in two pressure ratings, depending on size Code 61 Form R Type 1 PN 35/350 bar can operate at pressures from 500–5000 PSI. Code 62 Form S PN 415 bar Type 2 is the heavy-duty style and operates up to 6000 PSI. The design is the same between flanges; however, the flanged head diameters and bolt hole spacing are larger for high-pressure Code 62 fittings.
As with other flanges, there is interchangeability. The SAE J518, DIN 20066, ISO/ DIS 6162 and JIS B 8363 are interchangeable, except for the bolt sizes. Plus, the -10 is not available as an SAE standard size. Though Caterpillar flanges have the same flange OD as SAE Code 62, they incorporate a thicker flange head (note the "C" dimension in the table below).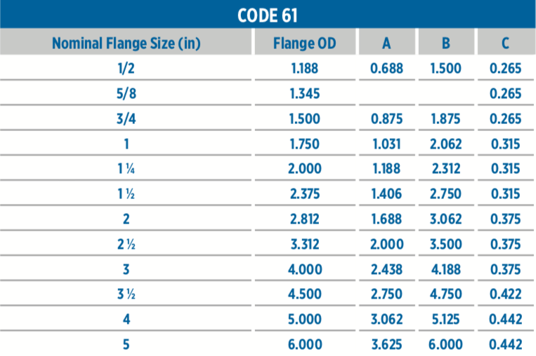 Komatsu® Flange Fitting
Komatsu Flange fittings are almost identical to the SAE Code 61 flange fittings and completely interchangeable. However, the O-ring sizes are different. Therefore an SAE O-ring is to be used when substituting a Komatsu fitting with an SAE fitting.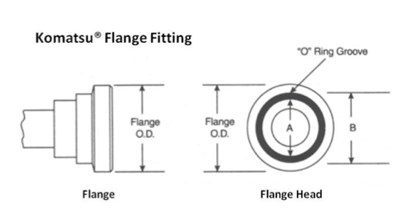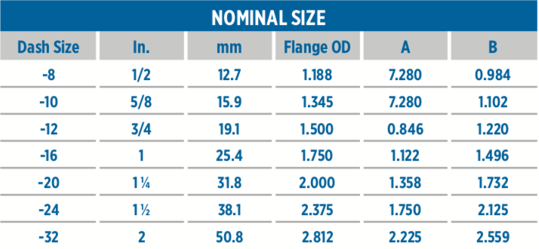 This blog is an excerpt from our latest whitepaper, Distinguishing the Different Types of International Flanges.
Primary Sources Include: