Brennan is a source for all things fluid power, including O-rings and O-ring fittings. Here are 9 things you need to know about O-Rings and O-Ring Fittings.
#1 - 4 Crucial Steps in ORFS Assembly
Proper assembly of O-ring face seal (ORFS) fittings is critical in all situations. But unfortunately, shortcuts are often taken in the field, which can cause detrimental system performance. Therefore, it is essential to take these four critical steps when assembling ORFS fittings. Learn More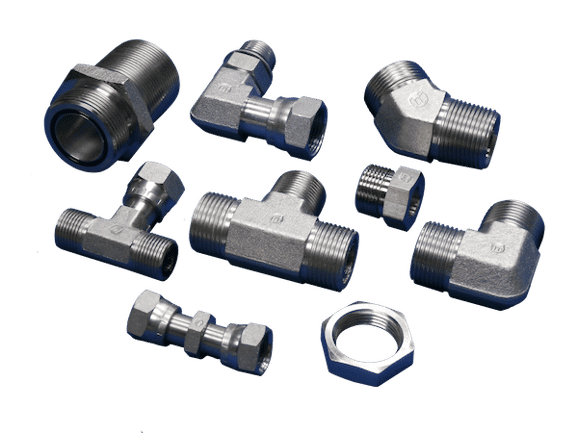 #2 - Things to Consider When Selecting an
ORFS Fitting
Leak prevention is a primary concern when designing a hydraulic system. Therefore, you must select the right hydraulic components to reduce leaks and connection failures. ORFS fittings are typically the best or the only practical choice when designing a system. Review these attributes of application, pressure, temperature and more when selecting system connections in the design phase.
Learn More
#3 - Creating a Leak-Free Connection with O-Ring Face Seals
ORFS fittings are a prevalent and reliable choice in hydraulics. They provide a highly reliable connection due to their elastomeric seal and are one of the best choices for a leak-free connection.
As the name implies, ORFS fittings incorporate an O-ring at the face of the fitting and are designed to eliminate leaks in high-pressure hydraulic systems.
#4 - A Look into How Each O-Ring Fitting is Used
There are many types of O-rings on the market. They are often made of different materials, have a specific shelf life and are used in particular applications. This blog post teaches about the most common styles, applications and material options.
#5 - What You Need to Know About O-Ring Storage
Your hydraulic fitting connection is only as good as the condition of the O-ring. For example, when a Buna-N (Nitrile) O-ring has been stored in the back of the bin for years, it is typically no longer sealed in the original plastic bag. And to make matters worse, what if that storage bin is in an outdoor tool shed or a facility that does not have air-conditioning, such as Tallahassee, Florida, where the average daily humidity is 80 percent in July?
#6 - O-Ring Boss Fittings in the Aerospace Industry
In the aerospace industry, O-ring boss fittings are popular among equipment designers because of their leak-tight hydraulic connections. This is because they typically use a 90 durometer, Buna-N O-ring.
There are two primary types of O-ring boss fittings in the aerospace industry: the SAE straight-thread O-ring boss fitting and the face seal or flat-face O-ring (FFOR) fitting.
#7 - O-Ring Face Seal VS O-Ring Boss
The two most popular hydraulic O-ring fittings are the O-ring face seal and the O-ring boss fitting. But how do you know which one to use in your application? While both need to create a tight seal within a hydraulic system, each serves a different purpose.
#8 - What is the Best O-Ring Material for Hydraulic Fluid?
Hydraulic fittings incorporating O-rings provide a simple solution that is often taken for granted. Also, essential characteristics of the O-ring, such are material selection, are frequently ignored. This blog post discusses O-ring material types and what is best for your application.
#9 - Common Applications of O-Ring Face Seals
Learn about the typical applications of ORFS fittings in this blog post. For example, ORFS SAE J1453 fittings are popular in hydraulic lines onboard vehicles, such as the heavy equipment used in construction. However, due to the frequent vibration and actuation of components in off-road vehicles, it is imperative to reduce or eliminate the number of potential leak points and incidences of leakage.