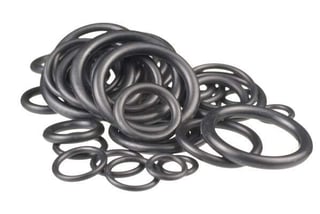 There are many types of O-rings on the market today. Each type is made from a different material, has a specific shelf life, and is used in specific applications.
Some of the most common O-ring styles, material options and applications include:
O-ring boss (ORB) seals join two fluid-carrying pipes, hoses, or tubing. In an O-ring boss system a male-threaded part is inserted into a female-threaded part, providing a mechanical seal. In an ORB seal an additional nut is tightened over the O-ring into a chamfered area, creating a fluid-tight seal. The AS568-901 through 932 O-ring sizes are used for sealing straight thread tube fittings in a boss. O-ring boss systems are most commonly used in hydraulics, compressed air systems and vacuum pumps.
Flange Seals create front-face static sealing in flange connections. Flange seals are used for either internal or external pressure applications. These types of seals are available in a wide range of materials. Flange connections are typically used with tubing applications that have an OD greater than 7/8" or for extremely high pressures.
Typical flange applications use the O-ring to seal the joint to contain pressurized fluid in split-flange fittings. Split-flange assemblies contain four components; a permanent flanged head connected to the tube, an O-ring and two mating clamp halves with four bolts to connect the split-flange. The elastomeric O-ring sits in a groove on a flange and mates with a flat surface on the port. The O-ring flange is attached to the port using the mounting bolts to tighten down the O-ring flange onto the flange clamps.
Flare-O O-Rings are typically made of Buna-N or Viton. They are used in hydraulic fittings to provide one of the tightest seals available. The elastomeric seal provides a leak-proof, drop-in replacement for SAE 37° flared tube fittings, literally eliminating hydraulic leaks when used properly.
Buna-N (General Purpose/NSF/Food Grade) is the most common material in quick couplings. They are solvent, oil and water resistant and used in applications with temperatures ranging from -40°F to 250°F (-40°C to 121°C). They are the simplest type of O-ring material and provide excellent sealing properties and durability. Buna-N (Nitrile) is commonly used with crude oil, gasoline, propane, petroleum oils and water. O-ring s made of his material are frequently found in engines, gearboxes and many other applications ranging from shower heads and garden hoses to pumps in aircrafts. Buna-N O-Rings are frequently used as face to face gasket style seals or as a shaft seals, and easily allow both rotary and linear movement. These O-Rings often serve as a packing or toric joint, which is simply a mechanical gasket creating a seal at the interface.
Peroxide Cured EPDM (Ethylene-propylene-diene rubber) O-ring material is standard for Medical Grade Polypropylene Couplings and are resistant to most chemicals. They are frequently used in medical devices, automotive manufacturing, water and wastewater systems and other challenging applications. Yet they are often used in common household appliances where chemical resistance is important.
Viton O-rings are used in many applications where resistance to extreme temperatures and chemicals is important. They provide outstanding resistance to ozone, oxygen, mineral oil, synthetic hydraulic fluids, fuels, aromatics and many organic solvents and chemicals. Viton O-rings provide excellent permeability and compression set resistance and have low gas permeability. They are ideal as gaskets in fuel line system sealing applications. Other fluorocarbon compounds can also offer improved resistance to acids, fuels, water and steam.
Silicone O-ring material is ideal in dry heat applications, is odorless and non-toxic. They are safely used in temperatures ranging from -70°F to 400°F (-57°C to 204°C) and are commonly used in medical devices, food storage products, electronics, automotive manufacturing, and even home repair and hardware products.
Kalrez® O-rings are highly resistant to chemicals and high temperatures. Kalrez perfluoroelastomer (FFKM) O-Rings are some of the strongest and most dependable in most industry applications. They exhibit extremely long service life and are highly resistant to many elements. Kalrez is one of the few materials that can withstand extreme temperature, pressure, and provide excellent chemical resistance all in the same application, making it a perfect material in the most demanding of environments.
Bonded Seal O-rings are frequently used as bolt seals in hydraulic equipment. Bonded seals, also known as Dowty Seals or Dowty Washers, are ideal for a wide variety of other applications as well. The bonded seal consists of a metal outside ring and an inner ring of rubber elastomer that acts as a gasket to provide the sealing action. The basic concept of bonded seals can also be used to produce customized shapes for specific applications where combinations of rubber to metal or plastic bonding are applicable.
O-ring seals for Flared Fittings come in two primary types that use O-ring face seals (ORFS):

An ORFS fitting has a replaceable elastomeric O-ring held in a groove in the face of the fitting. An SEA J1452 ORFS is used in applications to reduce or eliminate leakage problems in hydraulic systems while under high pressures. An ORFS connection uses a Buna-N, 90 Durometer O-ring that seats into a groove in the face of the fitting. When the connection is tightened the O-ring compresses against the flat face sleeve that is brazed onto the end of a tube and makes a metal-to-metal seal, with a cavity that supports the O-ring. The flat face sleeve also eliminates twisting of the tube and provides support during assembly.
Flare AN Seals (also known as Flare-O O-Rings, see above) are for 37° flare fittings (sometimes referred to as JIC fittings) meet SAE J514 and ISO 8434-2 and can be used with inch or metric tube and are most commonly made of Buna-N or Viton material. The 37° flare AN seal is used for tubing end connections where a nut is slipped on the end of the tube and the tube is then flared out using a special tool. The nut is threaded into a flare fitting which seals the flared tube in between the nut and fitting. Flare-O seals for 37° flare fittings are principally used in aerospace and marine applications, or older applications that have not upgraded to flareless tube fittings.

Conical Seals (AS4824) specification are available in aluminum, copper, nickel, & stainless steel. They are used as a seal on the end of a 37 degree flared fitting of similar dash number and are designed to be used when small nicks or defects in the fitting do not allow for proper sealing. These soft annealed 37° conical seals perform as a crush washer on a male AN flare. They help to ensure reliable, leak-free seals while preventing damage to the tubing or the AN fitting.
The O-rings You Need, When You Need Them
At Brennan Industries we have a wide variety of O-ring and seal options available, along with custom stocked O-ring replacement kits. We stock most sizes of materials and styles, including:
Buna O-Rings
Viton O-Rings
Flange O-Rings
Metric Bonded Seals
British Bonded Seals
Flare-O Buna-N O-Rings
Flare-O Viton O-Rings
Face Seal Buna O-Rings
Face Seal Viton O-Rings
Conical Seals
This blog post is an excerpt from our whitepaper, "O-ring Connections". Click below to download and read more: