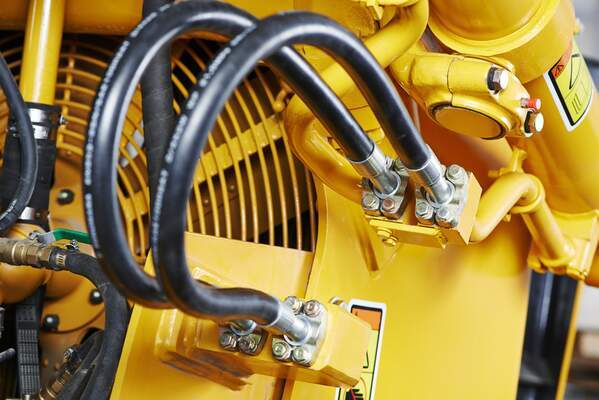 Your Connection is Only as Good as its O-ring
Case in point: A O-ring hydraulic fitting with a Buna-N O-ring has been stored in the back of the bin for an unknown period of time. Let's say it's been there for years. As is often the case, it's no longer sealed in the original plastic bag. Now what if that storage bin is in an outdoor tool shed, or a facility that does not have air-conditioning….in Tallahassee, Florida, where the average daily humidity is 80% in July.
Under the proper conditions a Buna-N O-ring has a shelf life of 15 years. That's "under proper conditions". One of those conditions is the humidity must be less than 75%. You can pretty much bet the fitting in question has been exposed to frequent humidity. Pull it out of the bin, put it into service and chances are there will be problems. Leaks, damage to equipment, or worse.
Not all O-rings are Created Equal
Not all O-rings are created equal. Too often they are just an afterthought, when they are actually essential components that the system depends on. A lot rides on each O-ring you purchase and put into service. It can be very costly if even one O-ring fails, the entire system can shut down, equipment could be damaged or even cause personal injury.
The Shelf Life of a Fitting is Only as Long its O-Ring
O-ring or elastomeric seal shelf life begins with the manufactured date and is dependent on being properly packaged and stored under specific conditions, even when in the body of a fitting. The shelf life of rubber is not an exact science since it is significantly impacted by storage and handling. A common misconception is that fittings made of metal last forever in the box, as long as they are not stored in corrosive environments. And that is true, to a point. However, if an unused fitting has an O-ring, its shelf life is only as long as the life of the O-ring.
The rubber industry uses older US military specifications and current SAE Aerospace recommendations to calculate O-ring shelf life in quarter year units. So the manufacturing cure date can occur anytime within 3 months and the shelf life expiration time does not begin until after the first full quarter thereafter. For instance, if an O-ring is cured on January 1, 2019 it would have a cure date established as 1Q19 and be considered to begin aging for the purposes of measuring expired shelf life on April 1, 2019. Therefore, an O-ring with a 3 year shelf life would expire on April 1, 2022 and so would the fitting, unless a new O-ring is properly installed in the fitting.
The conditions of shelf life of O-rings and or elastomeric seals are governed by SAE International Standard ARP5316D.
ARP5316D standards include:
Humidity: The relative humidity is considered that fluctuations in ambient temperature do not result in condensation. An O-ring, or fitting with an O-ring, should be sealed in a moisture proof bag where the ambient relative humidity is less than 75%, or 65% for polyurethanes.
Light: O-rings and elastomers must be protected from direct ultraviolet or sunlight.
Ozone: Even during storage, O-rings should be protected against contact with ozone, ozone generating equipment or combustible gases and vapors.
Radiation: O-ring elastomers must not come into contact with ionizing radiation.
Temperature: They must be stored at temperatures below 100°F (38°C), except in cases where higher temperatures are caused by temporary climate changes. They should be stored away from direct sources of heat such as direct sunlight, boilers or radiators.
According to SAE-ARP5316D and general industry standards, common O-ring material shelf life recommendations are:
• 5 years: Polyurethane (millable), SBR, Natural Rubber, Polybutadine, Polyisoprene
• 15 years: Nitrile, Neoprene, HNBR, Polyacrylate, Butyl
• Unlimited: Ethylene Propylene, Fluorocarbon, Perfluorinated Elastomer, Silicone,
Tetrafluoroethylene Propylene (Aflas®), Fluorosilicone.
| | | |
| --- | --- | --- |
| O-ring Material | ASTM | Shelf Life |
| BUTYL RUBBER, ISOBUTYLENE ISOPRENE | IIR | 15 YEARS |
| CHLOROPRENE (NEOPRENE®) | CR | 15 YEARS |
| ETHYLENE ACRYLIC (VAMAC®) | AEM | 15 YEARS |
| ETHYLENE PROPYLENE, EPDM OR EP | EP | UNLIMITED |
| FLOUROCARBON (VITON®) | FKM | UNLIMITED |
| FLOUROSILICONE | FVMQ | UNLIMITED |
| HYDROGENATED NITRILE, HNBR OR HSN | HNBR | 15 YEARS |
| NITRILE (BUNA-N OR NBR) | NBR | 15 YEARS |
| POLYACRYLATE | ACM | 15 YEARS |
| POLYURETHANE (POYESTER OR POLYETHER) | AU/EU | 5 YEARS |
| SILICONE | VMQ | UNLIMITED |
| STYRENE BUTADIENE (BUNA-S) | SBR | 5 YEARS |

This blog post is an excerpt from our whitepaper, "O-ring Connections". Click below to get your free digital copy:
Primary Sources Include: