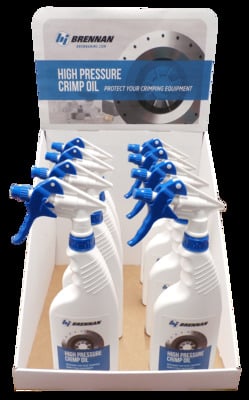 If you own a crimping machine for hydraulic hoses, then you understand how costly and time-consuming it can be when your hose crimping components aren't properly lubricated. Failure to properly lubricate components of crimping machines for hydraulic hoses can result in expensive repairs and costly downtime.
Well, now you can extend the life of these components with Brennan's new High-Pressure Crimp Oil. This crimp oil properly lubricates hose crimping components and reduces friction and wear. Brennan Crimp Oil won't attract and hold dirt, which can be especially damaging to dies and crimping components. Instead, it is very lightweight and goes on clean.
Features/Benefits
Reduces Friction
No greasy residue
Won't foul machinery
Formulated to withstand extreme pressures
Can be used on ferrous and non-ferrous metals
Anti-wear properties
Extends the life of crimping equipment
Easy application
If you're interested in extending the life of your crimping components and saving your company time and money, then don't rely on other heavy greases to do the job for you. You can download our free informational Crimp Oil Flyer that includes independent lab testing results here.
---