Stainless Steel Tubing

When it comes to selecting instrumentation tubing, it is important to consider the two different types- welded and seamless tubing. Each type of tubing provides unique features and benefits depending on the application at hand.

Welded

Stainless steel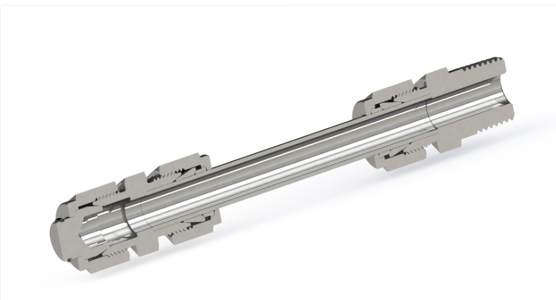 welded tubes and pipes are often more cost effective than the equivalent seamless tubing. And when comparing welded vs. seamless tubing, they can have better surface quality on both the OD and ID because it is made from a strip of roll-formed material and joined with a longitudinal seam made from flat rolled material as opposed to being extruded like seamless tube. In addition, the wall thickness of welded tubing is generally more consistent than that of seamless tube. To ensure this, the internal surface of welded tubes can be checked before manufacturing, which is not possible with seamless. If the concentricity of the wall thickness is difficult to control, as with seamless, it can be challenging to achieve good surface quality.
Seamless
Seamless tubing may come at a higher cost, when comparing welded vs. seamless tubing, but the process by which it is formed produces a completely homogeneous tube that allows for working pressures that meets ASME B31.3 Process Piping Code and performs 20% higher than welded tubing. Because of its ability to constantly withstand higher pressures and its superior corrosion resistance, seamless tubing is far more suitable in critical applications than welded tubing.
The allowable working pressures for 304 and 316 stainless steel seamless tubing made to ASTM A269, ASTM/ASME A213 or equivalent provides working temperature of -20°F to 100°F. The tensile strength as specified by ASME B31.3-2002 is 75,000 PSI, with allowable stress of 20,000 PSI.
Seamless stainless steel tubing offers better corrosion resistance and a more homogeneous grain structure. It goes without saying that seamless tubing needs no additional testing for weld integrity and does not present problems with weld-seam orientation and pressure de-rating.
Primary stainless steel tubing specifications and recommendations:
Annealed 304 or 316 stainless steel tubing to ASTM A 269, A 213 or equivalent
Tube hardness should not exceed RB 80, where the preferable hardness range is RB 70-78
Prior to installation, all tubing should be cut square, deburred and free of any surface defects and imperfections.
The combination of ASTM F 1387 certified fittings with the recommended ASTM Certified seamless tubing and proper techniques is the best way to eliminate hazardous and expensive leaks.
Conclusion
Proper deign, selection and installation of any instrumentation system is critical to the energy savings, operation and maintenance of any fluid and gas process operation.
Reducing the chance of a hydraulic system leak, maintaining pressure and insuring corrosion resistance, makes a system safer, more reliable and extends service life. It is vital that automated processes are optimized to be highly efficient and this is only accomplished with the correct design and product considerations. When design pressures are met, fewer cycles are required to meet production schedules, increasing efficiency and maintaining operations costs. The quality of product and accuracy of the initial installation of all components also reduces future maintenance problems and cost overruns.
This blog is an excerpt from our whitepaper, "What to Consider When Selecting Instrumentation Fittings, Valves & Tubing". If you're interested in learning more you can click below to download the whitepaper for free:
Sources: