O-ring face seal (ORFS) hydraulic fittings are a highly popular and reliable choice in hydraulic and tube connections. Well designed ORFS connections provide a seal that is highly reliable due to its elastomeric seal and is one of the best choices for a leak-free connection.
As the name implies, O-ring Face Seal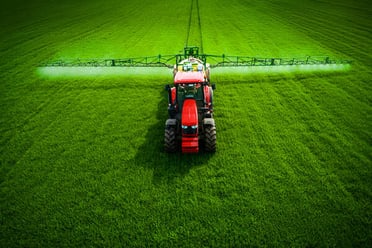 (ORFS) fittings incorporate an O-ring at the face of the fitting and are designed to eliminate leaks in high pressure hydraulic systems. Made to SAE J1453 standard, ORFS connections typically use Buna-N or Viton, 90 Durometer O-rings that seat into a grove in the face of the fitting. These elastomeric seals provide a leak-proof, drop-in replacement for SAE 37° flared tube fittings, eliminating hydraulic leaks when used properly. When the connection is tightened, the O-ring compresses against a flat face sleeve which has been brazed onto the end of a tube. This makes a metal-to-metal seal with a leak barrier provided by the O-ring. The flat face sleeve also eliminates twisting of the tube and provides support during assembly.
O-ring face seal hydraulic fittings can eliminate leaks in hydraulic systems at operating pressures as high as 6,000 PSI. They are designed specifically for applications where elastomeric seals are acceptable to overcome leakage and variations in assembly procedures. The O-ring face seal hydraulic fittings can be easily connected to a range of tubing grades by silver brazing. In addition, ORFS fittings can be disassembled and reassembled in the field to facilitate replacement of the O-ring or the entire assembly.
---
This blog is an excerpt from our latest whitepaper, 5 Things You Should Know About O-Ring Face Seal Fittings. Click here or the link below to download your free whitepaper!
If you're interested in our line of O-Ring Face Seal Fittings, click here to download our catalog.
You can also view our product collection on our website by clicking here.
Primary Sources Include: