ORFS Fittings Help Prevent Component Failure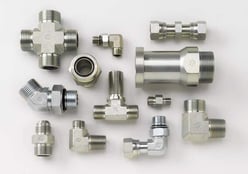 There are a variety of things that can lead to hydraulic component failure. However, the environment is the number one cause of these failures. Extreme temperatures are an example of a harmful environment for fittings. However, ORFS fitting can help to ensure failures due to these conditions do not occur.
Most applications in oil and gas, mining, and high-performance industrial sectors, such as construction equipment, agricultural equipment, and equipment sensitive to bending or pressure surges, utilize O-ring face seal fittings to prevent issues. Additionally, because the soft O-ring seal absorbs stress better than any metal-to-metal hydraulic fitting, they are the ideal connection in high-vibration systems. SAE J1453 ORFS fittings were first designed for off-road construction equipment and are now predominant in other transportation applications, from CNG & LPG vehicles to material handling equipment and other industrial applications.
---
This blog is an excerpt from our latest whitepaper, 5 Things You Should Know About O-Ring Face Seal Fittings. Click here or the link below to download your free whitepaper!
Primary Sources Include: