ORFS Fittings Help Prevent Component Failure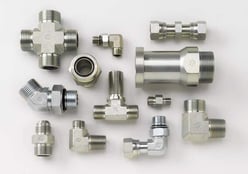 Many severe conditions can contribute to hydraulic component failure. Fittings and component assemblies are frequently required to work in very harsh environments, from corrosive off-shore applications to extreme heat and cold or frequent high pressure fluctuations. These are a few applications where ORFS fittings can provide leak tight connections to prevent failures.
O-ring face seal fittings are used in the majority of applications where there are very high pressures that are subject to flexing or pressure surges in construction equipment, agricultural equipment, oil and gas, mining and the high performance industrial markets. They are also the preferred connection in high vibration systems because the soft O-ring seal absorbs shock better than any metal-to-metal sealed hydrualic fittings. SAE J1453 ORFS fittings were first designed for off-road construction equipment and are now predominant in other transportation applications from CNG & LPG vehicles to material handling equipment and other industrial applications.
---
This blog is an excerpt from our latest whitepaper, 5 Things You Should Know About O-Ring Face Seal Fittings. Click here or the link below to download your free whitepaper!
Primary Sources Include: