Oil and gas are produced all over the world, from private wells on farms in Indiana, to production wells in Pennsylvania, deep sea wells in the Gulf of Mexico and oil fields on the Norwegian Continental Shelf. Production ranges from small wells of 100 barrels per day, to others with a daily output exceeding half a million barrels. Smaller fields may cost less than $10,000, while the cost of larger offshore rigs can exceed $10 billion.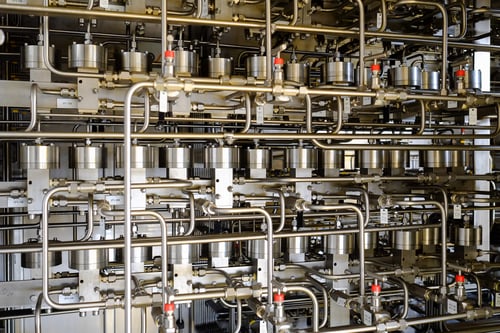 From exploration through refining, crude oil through high octane fuel, the oil and gas industry requires the highest level of flow control components to achieve the extraordinary requirements of reliability, corrosion resistance, vibration, temperature cycles and pressure surges. Onshore and offshore rigs, refinery plants and gas handling systems are all highly sensitive to reliability and safety issues.
Flow control components such as instrumentation fittings, valves and hydraulic components are integral to oil and gas exploration, extraction and refining. The applications for instrumentation fittings, valves and hydraulics in the industry require the highest level of durability and accuracy to achieve the necessary standards of corrosion resistance, vibration, reliability, pressure surges and temperature cycles. Offshore rigs, refinery plants and gas handling systems are all highly sensitive to the harsh environments they are often exposed to.
There are three primary stages in the oil and gas industries: upstream, midstream, and downstream.
Upstream refers to the operations stages of exploration and production. Upstream oil and gas involve the process of identifying the mineral deposits, drilling wells and recovering the oil or gas from the bottom of the sea or underground.

Schlumberger and China National Offshore Oil Corporation are examples of large companies that focus primarily on upstream exploration services. While many of the largest upstream operators (ex. Royal Dutch Shell and Exxon-Mobil) extract the oil once it's been identified as a rich deposit by an exploration company.


Midstream is the processing, storing, transporting and marketing of oil and natural gas.


Downstream is the processes of converting the raw materials of oil and gas into finished products, such as gasoline, natural gas and natural gas liquids, diesel and other forms of energy sources-- from propane to hydraulic fluid.
Flow control instrumentation fittings and valves are used in each of these phases. For the purpose of this blog, we'll focus on Wellhead Control Panels in upstream applications. A wellhead is installed at the surface of a completed oil or a gas well, providing a structural and pressure-controlling interface for production equipment and drilling.
Wellhead Control Panels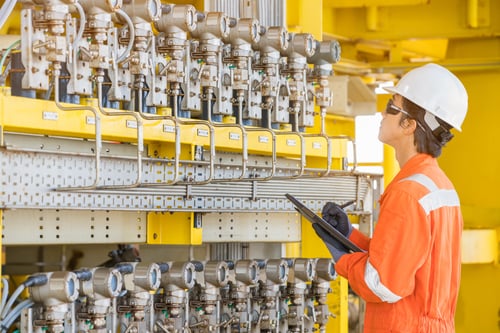 Wellhead Control Panels (WHCP) monitor the flow conditions of the well's flowline (pipeline connecting a single well head to a manifold or process equipment) and to initiate a shutdown of the oil well if necessary.
WHCPs are installed near the well head and incorporate components as a control function to operate the well.
Components of a WHCP include:
Instrumentation valves, fittings and pressure gauges. Chart recorders for pressure, flow rate and temperature. Pressure switches (PSLL - pressure switch low, low, PSHH - pressure switch high, high), temperature gauges, and instrumentation tubing. The high working pressures in a WHCP require a broad range of instrumentation tube fittings (e.g., double ferrule compression, cone & thread, etc.) and instrumentation valves (e.g., check, ball, plug, safety, relief valves, etc.).


Pneumatic 3-way pilot valves, 3-way push button valves, pressure regulators, pneumatic pressure switches and other similar devices.


Hydraulic components such as hydraulic pumps, pneumatic to hydraulic interface valves and Pressure Sustaining Valves (PSV), which are used to maintain a set pressure at specific points in the pipeline and hydraulic reservoir tanks.


And a highly important device, a fusible plug, for detection of fires. Fusible plugs are usually mounted above flanges, or parts where there is a possibility of leaks which can cause a fire. Fusible plugs hold back the hydraulic pressure back. In case of fire, the fusible plug melts and oil pressure is released, so specific valves will close and shut down the well.
Wellhead Control System's Function
Wellhead Control Panels and Systems control a wellhead platform's critical processes and provide secure start-up and shutdown of production wells. A wellhead control system monitors the flow line pressure of each well and interfaces with:
Emergency Shutdown Valves (ESD) — used to isolate the system in emergency situations. An ESD is a valve fitted with a spring return actuator, allowing the valve to be closed by the spring in the actuator when a pressure signal is released.
Control Surface Safety Valves (SSV) — a reverse acting gate valve mounted with a hydraulically-actuated, compressed piston actuator. The surface safety valve is a fail-safe and fail-close gate valve.
Surface-Controlled Underground Safety Valve (SCSSV) — monitored by the well control system when required. The well control system operates in a fail-safe mode, with hydraulic control pressure used to hold open a ball or flapper assembly that will close if the control pressure is lost.
Wellhead shutdown systems also incorporate integrated, separate or skid-mounted hydraulic power units (HPUs) with accumulators, interchangeable hydraulic pumps and reservoirs.
Conclusion
Wellhead Control Panels control vital safety and operational parameters of the wellhead platform and maintain safe and sequential start-up and shutdown of production wells. WHCPs operate in a "fail safe" mode to control oil and gas production wells individually and collectively. They are also critical in providing hydraulic pressure to control the actuation of the adjustable choke valves and HIPPS valves on flow lines.
The hydraulic and instrumentation fittings, valves and other components used in WHCPs are critical to their purpose: the safety of personnel, equipment and any necessary isolation of potential shutdown of the rig. If the WHCP does not operate properly, there is a high potential of safety hazards and damage to the well that can cause astronomical financial loss to the operation.
Sources Include: