Hydraulic systems power our everyday lives. They power everything from our cars' components to our dishwashers, from construction equipment to amusement park rides. Hydraulics can move small devices and extremely heavy loads. These extreme applications include heavy construction equipment, such as Caterpillar's 612OB hydraulic shovel with an operating weight of 1400 tons, and SMS Group's forging press that can produce 60,000 tons of force.
Hydraulic power delivers greater force than pneumatic, electrical or mechanical systems. It also provides constant force and torque that is impossible in these other systems. Hydraulic systems are proven to be more durable, longer lasting and harder working than other systems-- and they are less likely to fail. System repair is typically much easier because they have fewer moving parts, with more durability.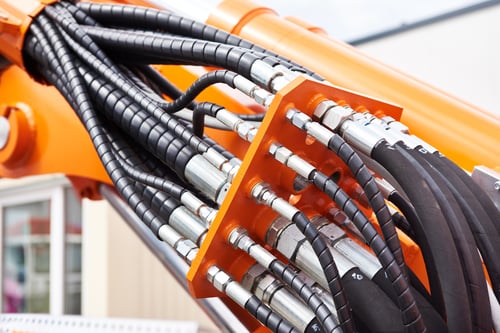 However, not all hydraulic components are created equal. Like any machine assembled with various parts, the efficiency of the equipment is directly influenced by the quality of its components. With today's rising fuel costs and inflationary impacts on operations; the more efficiently a machine operates — the more economical the project.

The pump, hydraulic hose (or piping) and hydraulic fittings are three of the most critical components of a hydraulic system. Like other components, fittings can vary in quality. Highest quality fittings are made from a single-piece forged high-strength steel alloy or 316 stainless steel.

The pump is the heart of the hydraulic system and the possibility of pump failure is very real. That's why high quality fittings and hose assemblies are so critical. Just like the human heart, if the arteries aren't clear . . . the pump fails.
Consolidating Suppliers Improves Accuracy and Saves Time & Money
Purchasing hydraulic fittings from multiple vendors leads to increased costs and risk of failure by improperly mixing and matching components. Brennan Industries' BI Perform allows for the consolidation of suppliers and vendors offering equal or often far superior performance characteristics than other leading global hydraulic component manufacturers. Our high-performance products, along with a comprehensive product line and customer-focused approach, bring value that few hydraulic component manufacturers can provide. Additionally, you can access and download 10,000 CAD drawings in over 150 formats, so design engineers can easily find the right part without searching the web, saving time and improving accuracy in part selection and component design.

With the ability to cross reference part numbers from over 30 different manufacturers and suppliers, BI Perform makes ordering easy and ensures you're choosing the right fluid power component for your application.
Eliminate or Reduce Order Errors
Receiving incorrect fittings or components is also expensive and time-consuming. The time it takes to return the wrong item and receive the correct one is not only a hassle, but you may have a machine down, costing valuable uptime. BI Verify, our proprietary semi-automated weight counting order verification system reduces the occurrence of order errors to near zero.

Many fittings look similar, but vary in weight. The scales used in our distribution centers ensure you are receiving the correct parts by verifying the weight of each fluid power component before it is shipped.
Customizing Standard Fittings or Designing New
Brennan's BI Identify verifies the correct parts during the purchasing process. Additionally, if you need non-standard parts or components, our engineering department will customize standard fittings or design new ones to be made specifically for your application.
Receive the Hydraulic Fittings You Need – When and Where You Need Them
BI Supply eliminates stock out issues by ensuring we have the components you need on hand. With our Safety Stock Agreement and 15 distribution centers worldwide, this alleviates supply chain disruptions and potential downtime by getting you the products you need—when and where you need them.
Ensure Your System Meets Required Standards and Specifications
We manufacture to the highest quality standards, meeting or exceeding requirements like DIN, ISO, ITAR, ASTM, NADCAP, AS9100 and others. Brennan ensures that your hydraulic systems meet specification and are built to last, giving you confidence that you're getting the correct, high-quality products for the most demanding applications.

Sources Include: