Hydraulics truly touch so many areas of our lives. We can't go through a day without some form of hydraulics powering us along. Some of the often unrecognized hydraulic applications include:
Municipalities use hydraulic components in landscaping equipment, fire engines, plows, garbage trucks and much more. 3/8" and 1/2" adapters are used in street sweeping equipment, and variety of fittings are used in the plumbing of ice rink re-surfacers. There are a multitude of hydraulic fittings and adapters used in applications by municipalities, from 6408-08-0 External Hex Plugs to 6504-20-20 MJ-FJS Straight fittings.

Office Chairs, Doctor Chairs & Tables, Barber Chairs and Bar Stools use hydraulics in their ergonomic design for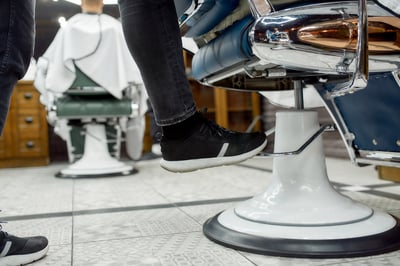 adjusting to accommodate a person's height, as well as tilt back to assist in relaxation or neck support. They also lift or lower tables and chairs for a doctor or dentist as they perform procedures and exams.

Gas Pumps depend on hydraulic systems to transfer fuel from the storage tank to your vehicle. When the fuel reaches the nozzle, a computer signals the hydraulics in the pump to stop drawing fuel from the tank.

Corrugated Box Plants use brass and steel pipe fittings, as well as many pneumatic fittings.

Bottling Plants use stainless steel and food grade fittings and valves in conveyor systems, filling equipment, to adhere caps to bottles and picking and placing product with robotics. Additionally, food grade plastic fittings and tubing are widely used in liquid transport for filling bottles.

Fishing Industry uses stainless steel fittings to avoid saltwater corrosion on boat cranes and in onboard canneries.

Logging Industry requires hydraulic adapters on equipment, from walking floor trailers to log loaders. Due to the work sites' remote locations, a significant number of MRO products, including hydraulic fittings and hose, are stocked at logging camp sites.

Dishwashers use hydraulics to increase water pressure for better cleaning. and Dishwashers fitted with hydraulic components are generally quieter, too.

Construction Equipment such as cranes, dump trucks, backhoes, forklifts, bucket trucks and safety harness rigging all use hydraulics to lift, load, carry and lower objects.

Pulp & Paper equipment utilizes hydraulics in many different processes, including equipment like calender rolls, press rolls, coaters, winders and stock washers. Hydraulics are also used in post-paper manufacturing processes, such as shredding, compaction, baling and conveying.

Can Manufacturing uses steel adapter change outs on pneumatic and hydraulic lines, operating cutting and can shaping equipment.

Industrial Laundry Machines use many face seal, JIC and brass fittings.

Pressure Washing Equipment utilizes pipe swivel adapters and other fittings, while DIN fittings are commonly used in the maintenance of these machines.

Swimming Pools use adapters on hydraulically operated pool covers.
Rubbish Collection and Handling equipment has hydraulic lifts, roll-off trucks and cylinders, along with walking floor trailers and conveyor systems, all requiring hydraulic fittings and adapters.

Commercial Turf Care Equipment must meet ANSI specifications and utilizes small power units needing 3/8" and 1/2" JIC steel adapters, as well as "NWD" fitting types, which are common in hydraulic drives for zero turn mower configurations.

Conclusion

There are so many other major and minor applications for hydraulics from oil & gas rigs to agricultural equipment, bakeries to theater staging. So, whether you are having a can of soda, filling your gas tank, writing a letter on your stationery or opening a box from Amazon — hydraulics were involved in making it happen.

In 1738, the Swiss mathematician Daniel Bernoulli put this theory into practice, using pressurized water in mills and pumps. Then in 1795, the Englishman Joseph Bramah patented the first hydraulic press. Imagine if they didn't succeed, and no one else pursued what is really a basic concept. Hydraulic power would not have been discovered and perfected-- we very well may still have been using pulleys to lift rock, horse drawn plows to plant corn, riding buggies to the general store and carrier pigeons to deliver our mail.

Sources Include: