Hydraulic Fluids in Aircraft
Hydraulic fluids used in aircraft are relatively thin compared to industrial fluids. They must also be fire resistant, which is critical when the nearest fire department is five miles below, not a few blocks away. Hydraulic fluids used in aircraft also differ from industrial applications because they must remain at -65° and up to 275° F. At those temperatures water and vegetable-based oil lubricants will freeze or boil. The primary hydraulic fluids used in military and commercial aircraft depend on the particular application and environment:
MIL-H-5606 has been used on many aircraft for over fifty years. It is still in use on some U.S. Air Force planes and business jets. However, it is highly flammable and may have been responsible for the loss military aircraft in the past and therefore is not used as frequently as before.
MIL-H-83282 hydraulic fluid use in aircraft has been used by the Air Force since 1982 and the primary fluid used in Navy aircraft since the late 1990's. Its popularity is primarily due to it being much less flammable than 5606. However, it is more viscous at low temperatures, with a lower limit at only -40° F.
MIL-H-87257 is a newer formulation and used in C135, E3, and U2 aircraft. It is also less flammable than 5606 and is able to remain fluid down to -65° F. It has become the more popular hydraulic fluid in newer aircraft.
Skydrol™ is a phosphate ester technology manufactured by Eastmen aviation solutions and has become popular in the industry as the first fire-resistant hydraulic fluid.
Hyjet™ is manufactured by ExxonMobil and is compatible with all approved Type IV and Type V hydraulic fluids, elastomers and other hydraulic system materials. HyJet V is a fire-resistant phosphate ester hydraulic fluid that can help mixed fleets extend the life of their hydraulic systems. Mobil HyJet V is approved for all commercial 5,000 PSI hydraulic pressure aircraft systems.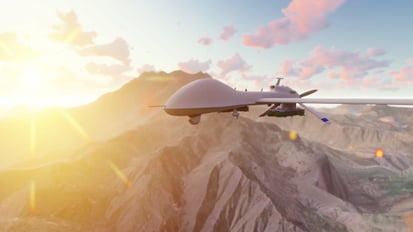 ---
This blog is an excerpt from our whitepaper, Aerospace Industry Supply Chain & the Critical Role of Hydraulics. Click the link below to download your free whitepaper!
Primary Sources Include: