For several years, the growth in technology directly influenced by the Industrial Internet of Things (IIoT) has been providing controls and real-time monitoring capabilities in fluid power applications.
Data collection and using that information to operate sensors has long been a part of the fluid power industry. Today, the advancements in IIoT play a significant role in hydraulics and pneumatics as they are frequently incorporated into control valves, pumps, hoses and fittings.
The capabilities of direct monitoring and control of these components with cloud analytics and smart devices is unprecedented, yet becoming commonplace.
A report from BCC Research stated "the global market for instrumentation sensors for fluid control should reach $16.2 billion in 2021 from $11.8 billion in 2016 at a compound annual growth rate (CAGR) of 6.7%, from 2016 to 2021."
Fluid power stationary applications (industrial) have the largest growth potential, forecasted to be $15.9 billion in 2021. While mobile applications (off-highway) are also expected to experience a significant increase. To support the growth of IIoT, apps for smart devices such as mobile phones and tablets are predicted to increase from what was a $243 million market in 2016 to $308.6 billion in 2021.
Specific Impacts of IIOT in Fluid Power Applications

Hydraulic hose failure is common in the industry. The failure of a hose usually creates major issues, including:

Downtime

Production loss

Safety concerns

Environmental spills

Equipment damage

Costs of repairs or replacement



To leverage technology in addressing these issues in the field, intelligent hydraulic-hose-condition monitoring systems have been developed that detect hose failures. Certain properties in the hose change as it approaches failure causing the system to signal a predictive maintenance notification. In addition, each fitting also has a sensor that monitors the condition of the hose. The data is then submitted to a diagnostic device for analysis of its condition. The sensors establish a baseline to compare properties of the hose when it is in normal operation. If the hose properties become below the normal baseline the sensors anticipate failure and deploy an alert signal.

Connecting Vehicles to the Cloud

Off-highway equipment can be monitored remotely by analyzing data gathered on their CAN communications. The CAN (Controller Area Network) bus is a communication system made for vehicle intercommunication. The system allows a group of microcontrollers and other devices to communicate with each other in real time and without a host computer. It is a message-based protocol that is primarily used in vehicles.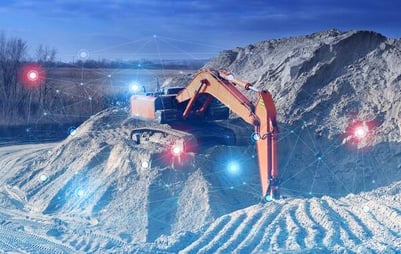 Action can be taken before failure of components by monitoring a vehicle's data systems and being able to control or send signals for impending maintenance. This significantly reduces the total cost of ownership and increases productivity and equipment reliability.

IIoT and its relation to mobile machinery telematics (in this case; vehicular technologies) systems allow OEMs, rental companies and fleet owners to ensure their machinery operates more efficiently and safely. It provides the advantage from continuous system monitoring and feedback diagnostics, and real-time insight into how their vehicles are used by the operator. In addition, the data gathered from a machine or vehicle's CAN is used to evaluate usage patterns to take into account operator needs when developing next-generation products. It also allows for efficient asset management by providing predictive maintenance, integration of recurring billing on rentals, end-user subscription management and GPS location. Being able to locate vehicles is critical for security and anti-theft. Alarms can be monitored through a web portal or sent automatically via e-mail or SMS to ensure a quick response to any issue with the machine.
Creating Smarter Solutions with Enhanced Machine Connectivity and Performance
Bosch Rexroth has developed modular software which includes tools for programming, parameterization and diagnostics, and is based on deep insight into hydrostatic and electrohydraulic functions. The hardware in their mobile electronics platforms includes connectivity devices, sensors, control units and human machine interface (HMI) components such as joysticks and displays.

Air Filter and Fluid Life Monitoring
Dirty air filters can choke the engine causing extensive damage. With every revolution an engine needs to breathe and a clogged air filter slows down the flow of air. As the air filter collects more debris, sufficient air flow becomes restricted, hindering the engine's ability to breathe and generate the necessary power and torque.
In addition, contaminated fluid is the cause for most hydraulic system failures. Oil in a reservoir may look clean, but silt contamination particles too small to see will likely cause valves to seize, destroy pumps, and corrode cylinder bores.
Donaldson Company offers their Filter Minder® technology which provides remote sensing and analytics solutions for accurate monitoring of air filters. This air filter monitoring solution enhances analytics capabilities to help the user understand the data that is aggregated.
Establishing the end of life for an air filter is much easier than that of hydraulics because when an air filter goes bad there is a pressure drop which can be assessed by pressure sensors. With this in mind, the company is currently focusing on liquid filter and fluid monitoring for hydraulic filter and oil conditions. Developing the intelligence and algorithms for fluid condition monitoring is far more complex than air filtration monitoring. There are a number of things that can indicate when oil is at the end of its life and developing sensors and analytics to diagnose these issues is much more complex.

The Vast Opportunities in Machine Connectivity
According to Terry Hershberger, Director, Sales Product Management & eSystems at Bosch Rexroth, the ability to connect to machines remotely opens a "Pandora's box of opportunity." This is realized through gathering information in fleet management and viewing operational data or diagnostics and geo-locating. "With sensors, machine monitoring controller data or critical machine information, the ability to inform the owner of the machine about when a filter needs to be replaced or an indication of a problem on the machine is at their fingertips."
The intelligence and capabilities built into components and systems will advance as IIoT technologies continue to develop. "Instances of upgrades to a machine with flash over the air (FOTA) or changing parameters on the machine (POTA) to enhance operation for the environment the machine is working in will be commonplace."
Machine connectivity and the vast amount of data that can be collected and transmitted can pose challenges. Also as stated by Hershberger, "Intelligent, useful, big data is expensive and may be cumbersome to manage but ever so important when we talk intelligence. Therefore, a continuing challenge is one of data compression and filtering out and sending the relevant actionable data." He says this is crucial with the connectivity device, and an area Bosch and Bosch Rexroth are working to overcome through the use of Edge Analytics. Edge Analytics is the collection and analyzation of data at the sensor, device, or touch point itself rather than waiting for the data to be sent back to a cloud or on-premise server. Data is collected and analyzed directly and can be addressed in real-time.
As technology in IIOT advances Hershberger concludes that; "The connected machine will become more and more normal."

Sourced from:
• FluidPowerNet Ltd
• Hydraulics & Pneumatics 1
• Hydraulics & Pneumatics 2
• Hydraulics & Pneumatics 3
• OEM – OFF-HIGHWAY