Internal and ambient pressure conditions, temperature extremes, materials, speed, weight, and fluid compatibility are some of the primary considerations in aircraft design.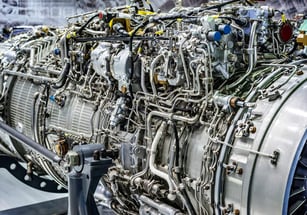 The pressures within aircraft hydraulic systems are typically higher than most industrial applications. For instance most commercial planes run at 3,000 PSI, while most hydraulics in military aircraft operate from 4,000 to 5,000 PSI. These higher pressures are related to the need for light weight at higher altitudes as actuators generate higher torque forces and power.
Aircraft also deal with sometime unexpected variables of ambient temperature fluctuations that fall well below zero and over 100° F. Most commercial planes experience conditions from -65° to 160° F and military aircraft from -65° to 275° F.
---
This blog is an excerpt from our whitepaper, Aerospace Industry Supply Chain & the Critical Role of Hydraulics. Click the link below to download your free whitepaper!
Primary Sources Include: