Hydraulic Systems: The Heart and Arteries of Aircrafts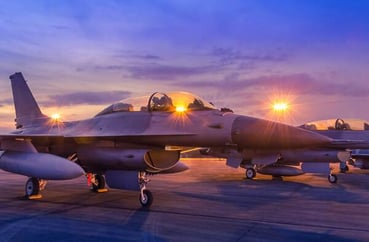 Hydraulic systems in aircraft are used on aircraft to move and actuate landing gear, flaps and brakes. Larger aircraft rely heavily on these systems for flight controls, spoilers and thrust reversers. These hydraulic systems in aircraft are reliable due to using hydraulic fluid that is virtually incompressible and able to transmit high pressures while being lightweight and more durable in comparison to pneumatic systems.
There are very few applications for hydraulic systems in aircraft that are more mission-critical than in aerospace and aviation, because human lives and military missions are at stake. Hydraulic systems in an aircraft or space vehicles must function for extended periods without risk of failure.
Aviation hydraulic systems can operate very efficiently in demanding in-flight conditions. They are used throughout the operation of flight-critical components, such as brake systems, flight control surfaces, landing gear and more. Aircraft hydraulic components are required to be lightweight and easy to install and maintain. Plus due to fluid dynamics, hydraulics are nearly 100% efficient, experiencing minimal friction-related losses of fluid.
Hydraulic System Components in Aircraft
Though the same basic components are typically used across most aircraft, from a twin engine Cesena to a Boeing 787, hydraulic systems will vary depending on the size of the aircraft and the complexity of the application. There are many different applications for hydraulic systems in aircrafts. And in most cases it is necessary to install redundant systems to ensure continuous safe operation in the event of hydraulic system failure.
---
This blog is an excerpt from our whitepaper, Aerospace Industry Supply Chain & the Critical Role of Hydraulics. Click the link below to download your free whitepaper!
Primary Sources Include: