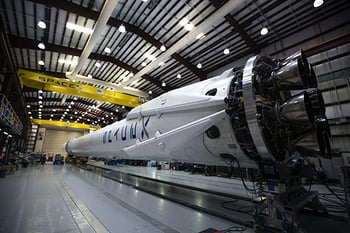 In our last post, we talked about the importance of cybersecurity in the aerospace and defense industries. To support these industries, a company must also be Nadcap accredited.
Nadcap
National Aerospace and Defense Contractors Accreditation Program (Nadcap) is a global cooperative accreditation program for aerospace engineering, defense and related industries. It is an industry-managed approach to conformity assessment of 'special processes' that brings together technical experts from prime contractors, suppliers, and government representatives to work together for establishing requirements for approval of suppliers using a standardized approach. Unlike traditional third-party programs, Nadcap approval is granted based upon industry consensus. Nadcap covers procedures for a wide variety of manufacturing processes, including:
Aerospace quality systems for chemic

al process and painting

Electronic contract manufacturing (ECM

)

Fluid distribution

 in process 

equipment

Fluid system

component manufacturing

Heat treating

Machining of parts

Manufacture of fluid components, valves, and fittings

Process equipment

Threaded fittings

Welding
Nadcap, along with AS9100 helps organizations working in the aerospace industries to organize their aviation, space, and defense requirements with the foundation of the ISO 9001:2015 standard, which is the key to mandated quality standards. In addition, to instill quality into their processes, AS9100 certified companies are required to focus on:
P

roduct realization

planning

Product

design and development

P

roduction

S

ervice provisions

P

roduct monitoring

Process m

easurement

s
Compliance via Nadcap accreditation is a milestone in demonstrating manufacturing excellence," says Joe Pinto, executive vice president and chief operating officer at the Performance Review Institute.  "It is one of the ways in which the aerospace industry identifies those who excel at manufacturing quality product through superior special processes. By obtaining Nadcap in fluid systems manufacturing, Brennan has proven to the industry that they are committed to quality and aerospace safety."
---
This blog is an excerpt from our whitepaper, The Critical Nature of Aerospace & Defense Certifications and Regulations. Click here to download your free whitepaper!
Click below to browse more of our Aerospace & Defense content.