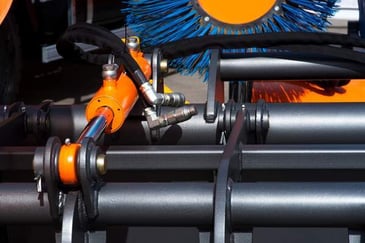 DIN Fitting Connections are also used in Check Valves & Non Return Valves depending on what your application is.
Check/Non Return Valves
A check valve, otherwise known as a non return valve is a spring loaded valve used in liquid systems where the flow should only go in one direction and safeguards from back flow. These valves are able to be installed inline and look very much like a large fitting.
Check valves are flow sensitive and rely on the inline fluid or gas pressure to open and close. An internal disc, regulated by a spring, allows flow to pass in one direction. If the flow decreases or is forced in the opposite direction, the spring begins to close the disc to stop the back flow. Non return check valves are typically made of just a few components such as a body, seat, disc and spring. Since the flow can only go in one direction, the outer body should have an arrow pointing in the direction of flow so it is not installed in the wrong direction. Depending on the application, some designs may also incorporate a hinge pin, stem, ball, disc arm, elastomers.
Metal sealing surfaces will typically allow some leakage. Therefore, where zero leakage is required, especially when gas or certain hazardous chemicals are being transferred, elastomers such as Buna-N or Viton (FKM) should be used to provide a leak-tight shutoff.
Some of the most common metric and BSPP threaded check valve tube connections are available in:
24⁰ Flareless to 24⁰ Flareless
24⁰ Flareless to BSPP or Metric Parallel - Elastomer Seal
Female BSPP to Female BSPP
Alternating Valves
European style alternating valves are T-shaped and allow the flow to pass from one of two inlets, which then passes through an outlet port. An internal floating ball bearing shuts the inlet port that is not in use. This shutting off of the opposite inlet port occurs when the floating ball bearing is moved by the pressure coming from the inlet flow. When pressure is to flow from the reverse direction the alternate port is shut off allowing the flow to come from the opposite source in the system and then to the outlet port.
The ball in an alternating valve provides metal-to-metal contact with a resilient seal seat to ensure a leak-tight shutoff of liquid or gas. However, they should not to be used with weld nipples, swivel nuts or any connection that does not allow contact with a shoulder stop in the inner cone. Typical end connections are 24⁰ flareless shuttle valve tube style.
Alternating valve bodies are normally made with carbon steel with a steel ball.
If you'd like to learn more about DIN standards, applications & specs, click here or below to download our latest whitepaper that includes comprehensive information about DIN Fittings!
If you're interested in our line of DIN Fittings, click here to download our catalog.
You can also view our product collection on our website by clicking here.
---