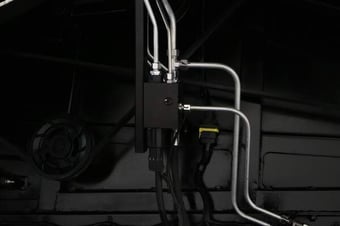 In this post, we will talk about four different types of DIN Hydraulic Fittings including DIN 2353 24° cone, DIN 2353 fittings, metric standpipe fittings & banjo fittings.
DIN Metric and BSPP (British Standard Parallel Pipe) are the most common thread styles in Europe. DIN-type tube fittings conform to the requirements of ISO 8434-1, DIN 2353, and DIN EN 3850 standards. This ensures the interchangeability with leading brands of fittings.
1. DIN 2353 24° Cone
Both male and female of a metric DIN 2353 24° cone fitting have straight metric threads. The tube OD is mated with a 24° seat recessed counter bore of the male fitting. The female mating component can be:
A metric DIN 2353 female tube fitting
Metric tube with a cutting ring and nut
24-degree cone with an O-Ring either welded or end formed on the metric tube.
The seat angle should be measured from the DIN hydraulic fitting centerline using a 12° gauge. The sealing of the two components is between the 24° seat in the male end and the corresponding female end.
2. DIN 2353 Pressure Series
It is important to note that DIN 2353 fittings are offered in 3 different pressure series – LL for Extra Light used in low-pressure applications, L for Light used medium pressure applications and S for Heavy used high-pressure applications. They are identified by measuring the thread size and pitch as well as tube OD.
3. Metric Standpipe Fittings
A Metric Standpipe fitting is made of three preassembled pieces:
Bite Sleeve
Nut
Standpipe
Adjustable standpipe fittings facilitate the connection of a metric tube with a 24° conical bore. Tightening the nut onto a DIN 2353 male connection compresses the bite sleeve onto the tube of the standpipe, which makes the seal.
4. Banjo Fittings
Metric and BSPP (British Standard Parallel Pipe) Banjo fittings have two components; a perforated hollow bolt and a spherical union for fluid transfer. They are primarily used in medium to high-pressure applications (up to 800 bar/11,600 psi).
The main benefit of a banjo fitting is they do not have to rotate relative to the fitting connection so the hose does not twist when screwing the fitting into place. It also allows the pipe exit direction to be adjusted relative to the fitting, allowing the bolt to be tightened independently.
Banjo fittings are used in many applications, especially in the automotive and mobile equipment markets, such as:
Brake caliper connectors
Fuel dosing for SCR systems (Selective Catalytic Reduction systems)
Fuel filter connectors
Hydraulic clutch systems
Power steering fluid lines
Turbo charger oil feed lines
Variable valve timing systems
If you'd like to learn more about DIN standards, applications & specs, click here or below to download our latest whitepaper that includes comprehensive information about DIN Fittings!
If you're interested in our line of DIN Fittings, click here to download our catalog.
You can also view our product collection on our website by clicking here.
---