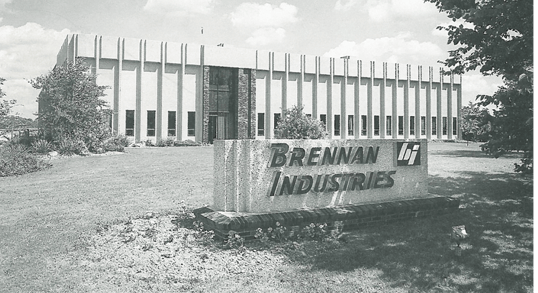 Brennan is celebrating 65 years in business in 2018, and as we look towards the future as a company, we also would like to look back and reflect on the past 65 years.
Brennan started out in 1953 with just one facility, and has grown to be a global company with 17 locations and over 450 employees!
In the past 65 years we have grown, expanded and changed as a company and our success wouldn't be possible without the help of our amazing customers and dedicated employees.
Thank you to everyone who has been with us on this journey & cheers to the future!
1953: Mike Brennan founded Brennan Industries.
1959: David D. Carr, current CEO, joined the company
1960: Brennan Incorporated

At this time, 300 different products were being manufacturing at one facility
Both the office and the warehouse were located on Lee Road, in Cleveland and moved to South Miles in 1965.

1973:

Brennan's first international sales division was established and an addition was built at the South Miles location

1978: Our corporate headquarters and warehouse (currently located in Solon, Ohio) was built.
1986: Purchased warehouses in Georgia, Texas and Washington
1988

David M. Carr, current President, was officially hired on
California sales office opened

1996: California distribution center opened
1999:

Acquired AD Machine & PHC
Built and opened our distribution center on Solon road

2000: New warehouse in Washington was built and opened
2001: Built & opened BIC Manufacturing, consolidating PHC and AD into one 45,000 square foot manufacturing facility
2010:

Opened distribution center in Toronto, Canada
Opened sales office in Ningbo, China

2011: Opened Shanghai office
2013: Opened distribution center in Houston
2014: Manufacturing facility in Xuzhou, China
2015:

Opened Shenzhen Sales Office
Opened Yuhuan Sourcing Office

2016: We acquired Truflow, UK distribution center
2017: We acquired Versa Fittings, expanding our Canadian distribution and manufacturing capabilities
Where are we today in 2018?
Three generations of the Carr family
17 locations and over 450 employees
We offer more than 50,000 products
Corporate expansion and remodel