Regardless of industry or application, the selection of instrumentation components such as fittings and valves is critical to proper system operation, safety and service life. The acronym STAMP, which you may have seen in previous blog posts, is an industrywide term for what to consider when selecting fluid and gas components: Size, Temperature, Application, Media, and Pressure.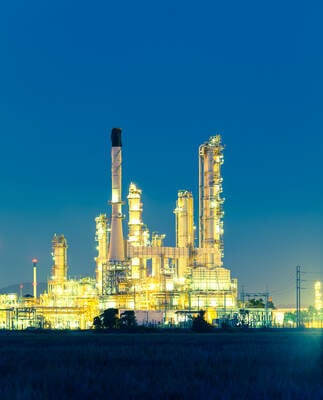 SIZE: Start with establishing the OD (outside diameter) and wall thickness of the tube based on required temperature, pressure, flow rate and other ambient conditions. Select tube OD and wall thickness based on the system requirements and fitting specifications.
TEMPERATURE: Instrumentation fitting and valve material and type of seal (i.e. metal-to-metal or O-ring elastomer) is what establishes the allowable temperature range.
APPLICATION: The application is what drives the entire selection of components. There is a big difference between delivering the flow of hazardous chemical pressurized steam versus hydraulic fluid or fuel. Even the delivery of fuel can vary from diesel to gasoline to CNG or LNG (compressed or liquid natural gas). Highly corrosive applications require stainless steel or sometimes other exotic alloys, such as Monel or Hastelloy. Even brass is sometimes a good choice in certain corrosive applications and steel fittings typically incorporate a corrosion resistant protective coating.
MEDIA: The fluid or gas media to be transferred must be considered when selecting fitting and seal materials. It is important to identify the Chemical Compatibility of the fitting and tube selection material.
PRESSURE: The pressure rating of an instrumentation fitting or valve must be equal to or exceed the required system pressure. The design of the connection must be established as a ratio of the required pressure and the rated strength of the fitting. To ensure safety and reliability in fluctuations of operating conditions, fittings and other components are typically rated with a 4 to 1 design factor under normal operating circumstances. A 4:1 design factor is the dynamic working pressure as 1⁄4 of the maximum hydrostatic failure pressure. The 4:1 design factor applies to "normal" operating conditions with moderate mechanical and hydraulic shocks and vibration. Some applications can use a 3:1 design factor where vibration, thermal load, mechanical, and hydraulic shocks are not significant. This helps protect the system from most pressure and other mechanical shock. The pressure capability in fitting selection depends on many factors, including tube wall thickness and tube or hose pressure rating, fitting type (i.e. flare vs. flareless), material, media and torque. It is important to refer to the manufacturer's pressure rating guidelines when selecting fitting and valve types.
---
This blog is an excerpt from our BluPrint, Evolving Markets for Instrumentation Valves, Fittings & Components. Click here to download your free BluPrint.
Click below to browse our other Instrumentation content.