BSP (British Standard Pipe) and NPT (National Pipe Taper) are two of the most popular thread styles in the world. Though Metric DIN and JIC fittings are more prominent, BSP and NPT hold a significant part of the market in specific applications. As international standard threads for joining fittings and pipes, BSP's popularity is primarily in England and other commonwealth countries, while NPT is the predominant pipe fitting in North America.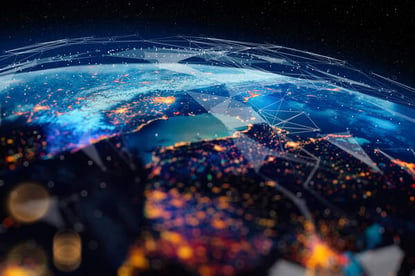 Though they satisfy similar applications in joining fittings and pipes, there are significant differences between their thread forms and they are not interchangeable.
BSP threads are rounded in the peaks and valleys and have a 55-degree thread

angle

NPT threads are pointed in the peaks and valleys with a 60-degree thread

angle
BSPP Parallel and BSPT Tapered Threads
There are two types of BSP thread styles, BSPP parallel and BSPT tapered.
BSPP is sometimes referred to as "G" or Gas threads. They are often denoted as straight threads because of their constant diameter and parallel thread form with the same width along the length of the fitting. It is recommended to use a sealant because BSPP male and female hydraulic fittings have the same cylindrical threads. When assembled properly, they can withstand significant pressure and high temperatures.
BSPP are commonly used on hose ends, adapters or ports and seated with O-rings, retaining or bonded rings. These bonded rings are pressed in-between the face of the female and shoulder of the male fitting, providing a leak-tight seal. A BSPP pressure gauge has a longer male thread and incorporates a copper crush washer that seats in-between the bottom of the female BSPP bore hole and that of the male fitting.
There have been attempts to thread an NPT male form into a BSPP female form because they sometimes appear similar at first glance. However, the dissimilar pitch will cause a misalignment of the threads leading to leakage and failure under pressure.
BSPT are referred to as "R" threads. Their tapered thread diameter varies along the length and seal using a bonded ring, though it's also recommended to use a thread sealant to ensure a pressure tight seal.
British Standard Pipe Tapered fittings and adapters are typically used to seat into a machined spot face that is "faced" into the workpiece with a smooth, flat, accurately located surface.
Tapered threads typically provide a tight seal, where the male and female threads wedge and compress together making a strong leak resistant connection.
BSP fitting threads are measured in nominal sizes in threads per inch. And BSPP Parallel Thread Fittings and Adapters are the most popular style in the UK and commonwealth countries-- except Canada, who primarily utilizes the North American NPT for pipe fittings.
Though BSPP is more popular, both BSPP and BSPT thread styles are used in hydraulic applications from heavy equipment, oil and gas and industrial machinery.
NPT and NPTF (National Pipe Taper Fuel)

Commonly used in plumbing applications, NPT fittings are also highly effective in hydraulic and gas conveyance.
NPT and NPTF thread forms are nearly identical, yet NPT is a general-purpose pipe thread requiring thread sealant to ensure a leakproof seal. While NPTF threads provide an effective, leakproof mechanical seal without the need for a sealant.
NPT fittings were initially developed for low pressure 60 psi water pipe plumbing. However, they have gained some prominence in low pressure hydraulic systems. Despite this, they are relegated to more common applications, even when using a thread sealant, due to their tendency to leak at higher pressures than most other types of connections. Although NPT fittings are a good choice for many standard applications, overtightening can be a problem and increases the chances of leakage, as it is likely to crack the female port. This is particularly the case if reusing and retightening an existing connection. It's far safer to replace an NPT fitting than to take the chance of overtightening an existing connection.
Conclusion
Both BSP and NPT are used in a wide variety of industries, including oil & gas, power plants, manufacturing, chemical processing and ship building. For example, many applications in the oil & gas market use NPT fittings, while BSP are common in pressure systems onboard ships. A wide range of materials are used in making each fitting style, from brass to carbon steel to stainless steel.
Sources Include:
---
This blog is an excerpt from our BluPrint - "When to Use BSP, JIC, Thrust-Wire and Face Seal Connections and Applications." Click here to download your free BluPrint.