Lockout and Tagout Safety Procedures

LOTO, or lockout and tagout procedures, is the most relied upon procedure for hydraulic maintenance safety. According to OSHA, "Lockout/tagout refers to specific practices and procedures to safeguard employees from the unexpected energization or startup of machinery and equipment, or the release of hazardous energy during service or maintenance activities.
This requires, in part, that a designated individual turns off and disconnects the machinery or equipment from its energy source(s) before performing service or maintenance and that the authorized employee(s) either lock or tag the energy-isolating device(s) to prevent the release of hazardous energy and take steps to verify that the energy has been isolated effectively"
Lockout devices isolate energy in a safe "off" position during maintenance. They have positive restraints that prevent equipment from becoming energized without a special key.
Tagout devices are warnings that an authorized employee fastens to energy-isolating devices to warn employees not to reenergize the equipment while it is being worked on.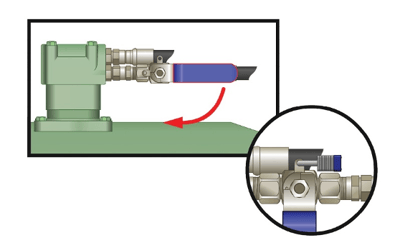 Demonstration of how to lock out a ball valve. Image courtesy of CD Industrial Group
It can be very hazardous to crack or loosen a connector on an accumulator port that retains stored energy in order to release pressure. This will most likely cause highly pressurized fluid to release at a speed that can cause injury. Another relatively common mistake is to bleed a system by slowly loosening a split-flange connector. If the system is under pressure and the four bolts are loosened the O-ring seal will burst releasing the stored energy of the pressurized fluid, which can cause very serious bodily harm.
Prior to system inspection or maintenance be sure to properly depressurize the system according the manufacturer's procedures. This minimizes the risk of hydraulic fluid bursting from a machine. Simply turning the system or machine off does not lower the pressure in a cylinder or accumulator.
When performing maintenance, never reuse old hoses or fittings. Especially do not reuse O-rings. If a flange fitting or O-ring boss is being disassembled and the fitting is still in good shape, it is still necessary to replace the O-ring. An O-ring that has been through multiple cycles of pressure and then exposed to the atmosphere during maintenance can become dry, brittle and will likely crack. If it is reused the opportunity for system failure or the potential of a burst fitting is very high.
---
This blog is an excerpt from our latest whitepaper, 4 Considerations for Safe Hydraulic System Maintenance. Click here or the link below to download your free whitepaper!
Primary Sources Include:
• Discharging Oil Under Pressure To The Atmosphere
• FluidPower World
• ForConstructionPros.com
• Hose Assembly Tips
• Hydraulics & Pneumatics
• Mobile Hydraulic Tips
• Mobility Work
• National Ag Safety Database
• Occupational Safety and Health Administration
• Reliabilityweb.com

---