In January of 2019, Brennan broke ground on the new Global Headquarters facility in Solon, OH. Since then, much progress has been made and completion is nearing quickly. While many external and cosmetic changes have been made, there has also been internal change with a shift toward creating a more sustainable workspace.
One of the many goals for the new facility is to be more environmentally friendly. Over the past few years, many companies have been striving to make small changes in their businesses in order to contribute to a bigger change for the environment. Brennan Headquarters has successfully eliminated paper and plastic cups, plates, utensils, and other unnecessary waste. In its place, there are cabinets stocked with ceramic coffee mugs, drinking glasses, stainless steel water bottles, and silverware. Since the team has moved into the new addition of the building, 4,255 trees have been saved and 2,927 bottles of water have been saved.
As another push to reduce unnecessary plastic waste, the new facility has a Bevi water cooler which reduces the need for employees to bring plastic water bottles to work with them. There is a whole kitchenette designed to make it easy for employees to use reusable dishes (and helps create a home-like environment that everyone loves.)
There are simple changes every company can make. One company can make a small impact, but the more companies that realize the long-term value of making the shift toward environmental sustainability, the greater the impact.
Interested in making your business more environmentally friendly but aren't sure where to start? Here are some simple changes to consider: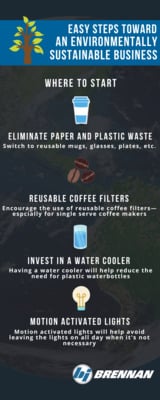 ---
Click here to read more about the new Global Headquarters facility.