Proper Component Selection

Ensuring hydraulic system components and their functions are leak-free begins with the design, which involves selection of the correct hydraulic fittings, hoses and other components for the application. This could be a hose-end connection, hose or tube to port, a tube end or flange fitting.
If it is a port connection, or 4-bolt flange, the correct O-ring material must be selected, which typically depends on the media the system is carrying, its temperature and pressure. The type of media and external atmosphere is also going to dictate fitting (and hose or tube) material.
Considerations for Choosing the Proper Hydraulic Fitting
Application Dictates Material: System application and environment dictates the selection of fittings. Common heavy equipment and industrial applications call for carbon steel, usually with a zinc electroplated coating for corrosion resistance. If the application has the potential for high corrosion, stainless steel or even brass can be the best selection.
Media: The system fluid and external atmosphere that comes into contact with the fitting is of primary consideration when selecting the fitting material, along with tube or hose material.
Pressure: Hydraulic system design is dictated by many factors, including the rated working pressure of the system. The working pressure for minimum burst depends on fitting selection based on a 4:1 design ratio under operating conditions that undergo moderate mechanical and hydraulic shocks. This ratio is based on the material in relation to the connection's dynamic pressure rating, where the fitting pressure rating is equal to or higher than the pressure of the system. A derating factor is the operation of a device at less than its rated maximum capability in order to prolong system service life.
During system construction or maintenance ensure the pressure ratings of the new or replacement components are compatible with the system. During maintenance do not use whatever is lying around, instead be sure to follow the OEM requirements for the equipment
The table below shows service, design and derating factors based on severity of the application.

Reliability: The reliability of a fitting is only as good as following proper selection criteria, and correct installation and maintenance. It is not uncommon for an NPT fitting to be over tightened when trying to correct a leak. This typically leads to the fitting becoming cracked or the threads being striped, which can then leak causing damage to equipment and personnel. In addition, when over torquing a JIC fitting the flares can crack and ultimately leak. Often, where the applications are suitable, the most reliable connection is an O-ring face seal fitting or a DIN metric fitting with an elastomeric seal. These fittings can reduce the chance of over- torque and minimize the chance of leaks.
Size: The fitting size is based on the hose or fitting OD and wall thickness, which itself is based on system flow rate, pressure, media and external environment. The wall thickness is dependent on these conditions and the fitting style. For instance a flare fitting may have a limitation to maximum tube wall thickness, where a 24° flareless bite type fitting imposes a limitation on the minimum wall thickness.
Temperature: As with any other condition of the application, the temperature of the system environment drives the fitting temperature rating. What a fitting can withstand is dependent on the type of material (material plating where applicable) and if there is an O-ring seal. If an O-ring seal is required under very high temperatures a metal to metal O-ring face seal type fitting may be the best selection. The table below shows temperature ratings for various fitting and seal materials.
Improper Couplings
Mismatched fittings can cause a dangerous rupture to a hose, tube, component assembly or entire system. This is particularly dangerous if a low pressure fitting or other component is connected to a high pressure system.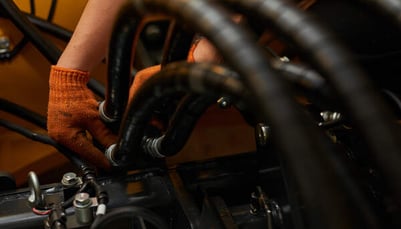 Hydraulic fittings must also be corrosion resistant and strong enough to withstand the high pressures experienced in a hydraulic system. It is also imperative that the fitting material be compatible with the tube or hose and the media the system is carrying and atmosphere outside the system. Depending on the grade or alloy, steel fittings are typically rated to 18,000 PSI and are commonly used in agricultural, construction and industrial equipment due to the high pressure requirements and necessary fitting strength.
However, in applications from food processing to off-shore oil & gas drilling, fittings and other components are most often stainless steel or other exotic alloy. In conditions such as off-shore rigs the fittings and lines not only carry corrosive media, but the outside atmosphere of salt water or spray can cause corrosion or pitting. If a common steel fitting is used in this type of application, there is a significant chance for failure that can not only cause damage to the system and be hazardous to workers, but can be very costly out on an oil platform or deep undersea.
---
This blog is an excerpt from our latest whitepaper, 4 Considerations for Safe Hydraulic System Maintenance. Click here or the link below to download your free whitepaper!
Primary Sources Include:
• Discharging Oil Under Pressure To The Atmosphere
• FluidPower World
• ForConstructionPros.com
• Hose Assembly Tips
• Hydraulics & Pneumatics
• Mobile Hydraulic Tips
• Mobility Work
• National Ag Safety Database
• Occupational Safety and Health Administration
• Reliabilityweb.com

---