Hydraulic systems in heavy equipment are designed utilizing certain principles for performing work using multiple components. For instance, motors activate pumps; the pumps pressurize hydraulic fluid that passes through tubes to actuators. As an example, the actuators in an excavator move the arm or bucket. The fluid passes through filters, is recycled through the system, and circulates back to the pump.
Hydraulic systems are very sophisticated and utilize a variety of individual components, such as:

The materials used to manufacture hydraulic system components must be exceptionally tough and durable to withstand extreme conditions. These materials include:

Some systems may include titanium components, which are typically used in extreme high-pressure systems and may operate up to 50,000 PSI or more.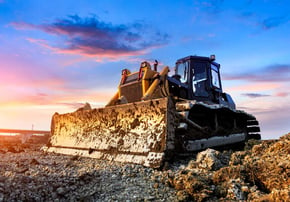 The safe operation of a hydraulic system starts with the initial design. Hydraulic maintenance in the field can only be done effectively if the system is properly designed in the first place. We change the oil in our cars for clean lubrication of the engine. Imagine if the engine's design restricted the flow of oil to the pistons, it wouldn't take long for your engine to seize up. To correct the problem, it would take more than performing typical maintenance, you would be facing an entire rebuild of the engine.
When designing hydraulic systems to ensure safe operation, safe maintenance, minimize unscheduled maintenance and reduce downtime, there are many important considerations to follow. Design engineers should be trained and educated to follow safe and efficient system design. However, it is important for maintenance engineers to also have knowledge of what goes into it.
---
This blog is an excerpt from our whitepaper, Hydraulic Safety Begins With the Design. Click here or the link below to download your free whitepaper!
Primary Sources Include
---