Hydraulic system designs for heavy equipment and other machinery must take into account how and where the system is to be used. In accordance with ISO 14121-1, a risk assessment must be conducted to ensure there are not any predictable risks in the design that could carry over into the field. Reasonably foreseeable misuse shall not cause hazards. If any portion of the hydraulic system design is unable to foresee potential risks in the field, then safeguards and warnings must be integrated into the system following safety standards as identified in ISO 12100. As further precaution, ISO 13849-1 is used in the design of control systems.
Some fundamental considerations must be followed when designing hydraulic systems and establishing their specifications
Piping and components
The selection of all system piping, tubing, hoses and components must be specified to make sure they are safe for the intended application and will function in accordance with their rated limits. It is especially important to ensure the reliability of all components so they do not present a hazard if they should happen to fail. For instance, specifying proper fitting torque, hose assembly and flange selection, plus any other component that has the potential of causing physical harm or damage to equipment.
Selecting and installing components must follow the supplier's instructions. However, in some cases separate testing or prior experience may confirm the suitability of different components, their installation and their application.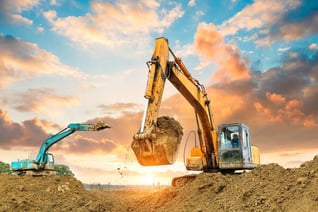 For consistency, and to make sure safety is built into every system, its piping, connections and components should conform to International Standards.
Potential leakage
In the event of external or internal hydraulic leakage, measures must be put into place to minimize and contain it and ensure it does not cause potential hazards with the hydraulic system design.
System temperature
The operating temperatures of the system or system components must not exceed the limits specified for safe handling or usage. Warnings and other safeguards should be put into place where applicable. This includes designing systems in a manner that ensures people are protected from high surface temperatures by isolating the component, posting warnings or guarding the location in accordance with ISO 13732-1.
Maintaining designated system pressure
The system and its components must be designed and protected from the possibility of the pressure exceeding the designated maximum allowable working pressure. This includes maintaining the rated pressure of parts within the system if there is the possibility that an increase may be hazardous.
If system components, fittings or piping are able to be disconnected or resealed, that can trap fluid which has the possibility of increasing or decreasing pressure due to a change in fluid temperature or load. There must be a method for limiting a potentially hazardous change in pressure by incorporating relief valves, pressure-compensator pump controls or other methods of safely diverting pressure.
It is imperative that all hydraulic system designs are made to restrict potential fluctuations or surges in pressure that may be hazardous to individuals or equipment. This includes excessive pressure that can cause external loads on actuators to exceed specification.
Mechanical movements

Any mechanical movement, including but not limited to the result from acceleration, deceleration and lifting or holding materials, must not incur the consequence of being a hazard to people or property.
Managing noise
In accordance with ISO/TR 11688-1 the design of hydraulic systems should take into account the anticipated noise that will be generated in application and steps taken to minimize noise that could be hazardous, or within reason, cause an unnecessary nuisance to the environment.
A hydraulic system's functional and operational requirements
When designing a hydraulic system, clear operational specifications must be identified for the user, such as:

Safety, emergency, and energy isolation
Lifting specifications
Protective coatings
Types of allowable fluids
Working ranges of:

Flowrate
Pressure
Temperature
---
This blog is an excerpt from our whitepaper, Hydraulic Safety Begins With the Design. Click here or the link below to download your free whitepaper!