Hydraulic systems are essential in the manufacturing, construction and energy industries. Since designing a hydraulic system is intricate and complex, this blog post discusses general guidelines to keep in mind.
Determine system

requirements
The first step in the hydraulic system design process is identifying the system's requirements. This is necessary in understanding the needs of the application, including the force, speed and precision. Internal system requirements such as temperature and pressure, along with external environmental aspects, including atmospheric temperature and humidity, all affect the hydraulic system's performance, and must be considered in the design. Components are determined based on application requirements and how they will best help in system performance.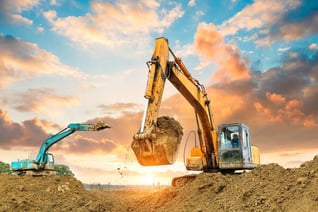 Select the right
components
Picking the appropriate components comes after the system requirements have been established. You should consider the components' dependability, maintainability, cost and even weight. It is crucial to ensure the hydraulic pump, valve, cylinder and other parts are selected and designed to best suit the system requirements.
A hydraulic system connection is only as good as its fitting selection, starting by choosing thread type, or O-Ring Face Seal and the fitting material. Thread type and O-ring materials are critical in preventing leaks. Proper fitting materials are essential in ensuring pressure and chemical compatibility. There are many factors to consider when selecting the right fitting for your application. To learn more, check out our blog Popular Hydraulic Fitting Types.
Optimize energy
efficiency
You can lower operating costs and energy consumption by maximizing energy efficiency. Making the appropriate component choices, utilizing variable speed drives and minimizing system leaks will help to reduce pressure drops and increase the function of an energy-efficient hydraulic system.
Use the correct hydraulic
fluid
An extremely crucial step in an efficient system is the selection of hydraulic fluid. Considering variables such as viscosity, temperature range and component compatibility will help you to choose the correct fluid. If not carefully evaluated, a performance loss and possible damage can occur within the system.
Design for safety and maintainability
When designing hydraulic systems, safety is a crucial factor. Systems should be designed for safe maintenance and operation. This entails selecting components rated for the necessary pressure and temperature, ensuring the system is installed correctly and maintained regularly, particularly in monitoring and replacing filters.
One aspect of maintainability is choosing components that are easy to access and repair. You can lower downtime and repair costs by designing for optimum efficiency, maintainability and service life.
It is important to remember that hydraulic systems are not typically one size fits all. Each application may have specific requirements, so adjusting the design to meet those needs is crucial.
Additionally, you should stay up-to-date on the most recent advancements in hydraulic system design as technology develops and new components become available. This way, by using the most recent technology and best practices, you can ensure the hydraulic system is optimized for performance, efficiency and safety.
Conclusion
Designing a hydraulic system is a complex process that needs careful consideration of many variables. However, by following these recommendations, you can create hydraulic systems that are flexible, energy-efficient, secure to operate and easy to maintain.
Sources:
---
This blog is an excerpt from our whitepaper, Hydraulic Safety Begins With the Design. Click here or the link below to download your free whitepaper!