When designing hydraulic systems, it's important to know that every system incorporates a series of fittings and flanges. And because of the need for system maintenance, removable fittings are required in the designing of hydraulic systems, except for certain specialized systems.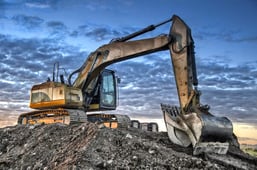 Pipe Fittings
All-metal pipe fittings have threads that have a high likelihood of leaking because they are often over-tightened, which distorts the thread and/or causes cracks that allow for leak paths. In addition, metal pipe threads will often loosen when exposed to wide fluctuations in temperature or even small amounts of vibration. In fact, most design engineers consider metal-to-metal connections to be obsolete for use when they're designing hydraulic systems.
JIC Flare-type Fittings
JIC fittings are the type most often used in hydraulic systems. Because the 37° flare fitting's tapered end seats into the flared end of the tubing it provides a positive seal. JIC fittings are designed for use in systems with operating pressures of up to 3,000 PSI and temperatures from 165° to 400° F, that utilize thin to medium-wall thickness tubing. Thick-wall tubing is not applicable because it is difficult to form the flare. JIC 37° flare fittings have many positive features, such as:
Saving space because they are more compact than others
Can be easily adapted to metric
Are readily available
Are comparatively economical
---
This blog is an excerpt from our whitepaper, Hydraulic Safety Begins With the Design. Click here or the link below to download your free whitepaper!