Flange Fittings & How They Fit In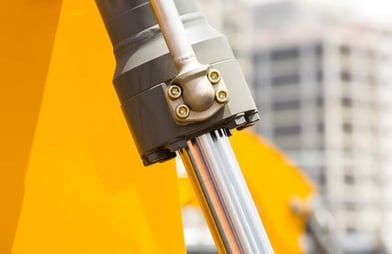 The fluid power industry is making a shift to connections with an elastomeric O-ring seal, to minimize leakage. These fittings include the SAE straight thread, face seal, ISO 6149, SAE J518 (Code 61 and Code 62) flange fittings and flanges (Code 61 and Code 62), where the O-ring seal is compatible with the fluid.
When fitting tube-to-tube (or pipe or hose) a captive flange is often used. Captive flange fittings simply slip over the flared tube and are connected to the mating flange or other component. Captive flanges are commonly used with MJ-Flange Straight fittings (aka flange adapters), where there is smooth clearance to slide over the fitting and seat on the flange head. Split flanges are used with 45° or 90° flange fittings (i.e. MJFlange 45 or 90). Split flanges come in kits (either for Code 61 or 62) which include:
Two halves of the flange that fit around the fitting at the flange head
The accompanying O-ring face seal
Four bolts & washers to secure the flange and fitting to the port
Flange fitting connections are easy to assemble and provide the best option in larger diameter applications, especially when under high pressure. They provide significant advantages over threaded fittings in more severe applications:
Easier to assemble in tight spaces
Easy to disassemble for maintenance or reconfiguring the system
Large connections over 7/8 inch to 5-inch O.D tube or pipe - for Code 61 only
Less torque required for tightening versus reaching proper torque for comparable large size flange fittings
Provides up to 6,000 PSI capability through 2" size – for Code 62 only, 5,000 PSI for Code 61
Single point sealing between tube, pipe, hose and/or component port connection
If you're interested in our line of Flange Fittings, click here to download our catalog.
You can also view our product collection on our website by clicking here.
Primary Sources Include:
---