Brass fittings provide strength, durability, corrosion resistance and ductility at ambient and high temperatures. Brass is an alloy that primarily consists of copper and zinc. It is used in a variety of fitting applications, including compression, hose, pipe and pneumatic. Most brass fittings are well suited for temperatures ranging from -325° to 400°F (-198° to 204°C) and, depending on the size and style of the fitting, can withstand pressures up to 3000 psi. However, many applications of larger sizes are rated for lower pressures.
Straight brass fittings are normally machined from hexagonal bar stock and fitting shapes such as elbows, tees and crosses are typically forged. They can provide a leak-free operation and meet SAE, ISO, DIN, DOT, and JIS standards.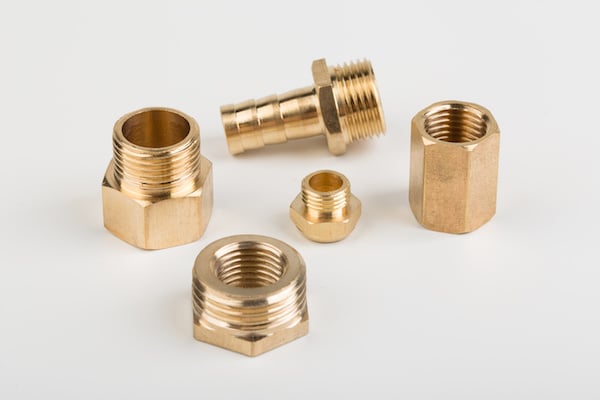 Applications
Brass fittings are used in hydraulic, pneumatic, instrumentation and plumbing systems. Common applications include instrumentation gas and chemical transfer, air compressor piping, mobile equipment, packaging equipment, machine tools and various non-potable water plumbing applications.
Although brass is not as common as carbon or stainless steel in fluid power applications, it is still an extremely useful material for hydraulic and pneumatic hose and tubing applications in corrosive environments.
Brass fittings are typically used for connections that carry chemicals, non-potable water, slurries and flammable gases. Brass fittings are also used in many automotive and truck applications-- from fuel lines to air brakes and other hose ends.
Brass barbed connectors (a.k.a. hose barb connectors) are one of the most common flow control components. The hose barb inserts into the hose or tubing, through which fluid and air flow take place. This style usually has a male or female connection on the opposite port of the barb.
Brass SAE 45-degree flare fittings are popular in applications such as instrumentation, LP and natural gas, flammable liquids, power steering, refrigeration and many hydraulic and pneumatic systems. They are used with brass, copper, aluminum, or steel hydraulic tubing materials. These SAE 45-degree brass fittings meet ASA, ASME, SAE and MS standards and specifications. Their working temperature ranges from -6F° to +250F° (-53C° to +121C°) at maximum operating pressures, which is lower than the temperature range of other brass fittings. And Their working pressure ranges are dependent on temperature, type and size of tubing. For instance, using copper tubing at 73°F (23°C), operating pressures range from 2800 PSI with 1/8" OD/0.030" wall, down to 450 PSI with 7/8" OD/0.035" wall.
Brass instrumentation fittings are used for process measurement and control systems in chemical processing plants, medical equipment, aerospace, defense and oil & gas industries. These compression fittings are also available in a number of different styles including straight, bulkhead, tees, elbows and crosses-- any of which can serve as reducing fittings from one size tube to another. They are available in single ferrule, which bites into tubing as the nut is tightened to create a strong, leak free seal, as well as double ferrule to provide better gripping power for higher pressure applications.
Brass swivel hose barb fittings are popular in applications that require rotating of the hose. Swivel fittings are rotating adapters and connectors that allow the coupling and hose connection to rotate, preventing twisting, kinking and excessive bending to reduce mechanical stress on hoses that can lead to premature hose failure. Brass swivel fittings are used in pneumatic and liquid flow control systems to increase maneuverability. They help prevent mechanical stresses on supply line hoses that are connected to moving machine parts. Brass swivel fittings are often used for air tools where they significantly increase maneuverability between the handheld tool and air line.
Conclusion
There are many advantages and practical uses for brass fittings in specific applications, which include:
Exceptional malleability, which means that the material has more flexibility than steel. Though brass is extremely malleable, it still retains its durability.
Extremely versatile brass fittings are available in a wide range of shapes, sizes and styles for hydraulic, pneumatic and instrumentation applications.
High corrosion resistance of brass fittings is why they are preferred in applications with highly corrosive conditions, including many chemicals, water, slurries and external atmosphere.
Highly durable material that provides extensive working properties, delivering optimal performance for supply lines that carry chemicals, gases and slurries.
High-temperature resistance due to its effective conductivity of temperature. Brass fittings can withstand higher temperatures than many other materials. However, it is important to keep in mind that allowable pressure ranges are dependent on temperature, as well as the type and size of tubing.
Sources Include: