German Threads
DIN (Deutsche Industrial Norme) German style is the most common metric fittings used globally. When a fitting is referred to as metric, more often than not is a DIN connection. DIN Metric and BSPP (British Standard Parallel Pipe) are the most common thread styles in Europe. DIN 2353 24° fittings are most commonly used in industrial, oil and gas, and construction equipment in hydraulic and pneumatic applications; as with BSP standards DIN flanges are SAE Code 61 or Code 62.
DIN metric sizes range from 12mm to 52mm and like most common industrial styles are made of carbon steel or stainless steel material. As with most other fitting types, there are three series of tube port end connections: tube-to-tube, tube-to-female port and tube-to-male thread.
DIN-type tube fittings conform to the requirements of ISO 8434-1, DIN 2353, and DIN EN 3851 standards. Because they follow these common specifications, they ensure interchangeability with leading brands of fittings.
As with other tube fittings, they consist of a body, cutting ring (ferrule) and nut. DIN connections are used in:
Alternating Valves
Banjo and Swivel Couplings
Check Valves/Non-Return Valves
Tube Fittings
As with other fitting types, in cases of use in extreme environments, metric DIN connections are made of high-quality stainless steel 1.4571 (316Ti) providing exceptional temperature and corrosion resistance. Stainless steel 316Ti is used in environments with high salt levels, acidity or near weld seams. Because of the long service life of this material, there is a significant reduction in the total cost of ownership, which leads to few parts replacement and lower maintenance costs.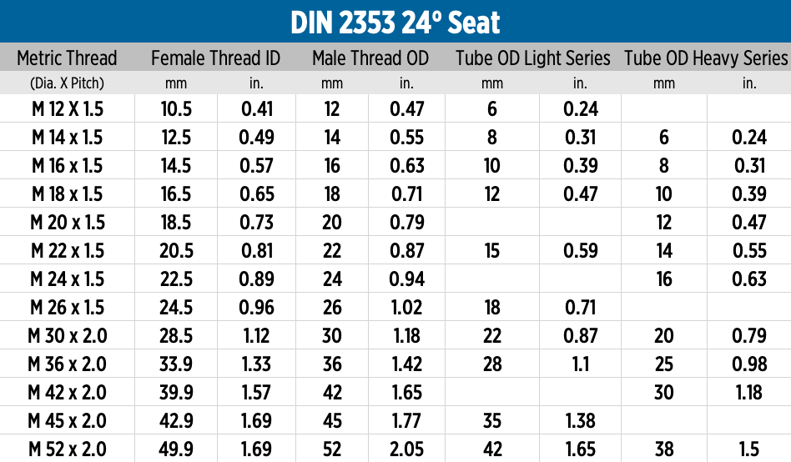 Screen Shot 2019-11-13 at 3.31.28 PM