One type of international flange is the DIN 4-Bolt Flange. DIN means, "German Institute for Standardization." These DIN flanges are similar to SAE Code 61 and SAE Code 62 flanges.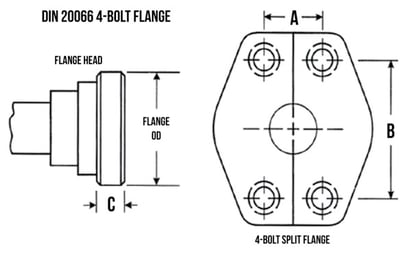 For this particular DIN flange, the unthreaded female port has 4 bolt holes around it in the corners. The male flanged head has holes to match the port and a grooved recess for an O-ring.
The O-ring makes the seal between the flanged head and the flat surface on the port. Threaded bolts are inserted through the 4 bolt holes to securely connect the flange to another mating flange or the flat surface of the port.
Two pressure ratings for DIN 4-Bolt Flanges
Form R is very similar to SAE Code 61, where Form S is the heavy-duty series and is similar to SAE Code 62. Either metric or inch type bolts can be used in a DIN 4-Bolt flange. In addition, the DIN 20066 4-bolt flange is interchangeable with JIS B 8363 and SAE J518. Because of their interchangeability SAE J518, DIN 20066 and JIS B 8363 flanges are available in two pressure ratings. Code 61 is rated up to 3,000 PSI and the high pressure Code 62 series is rated up to 6,000 PSI in all sizes.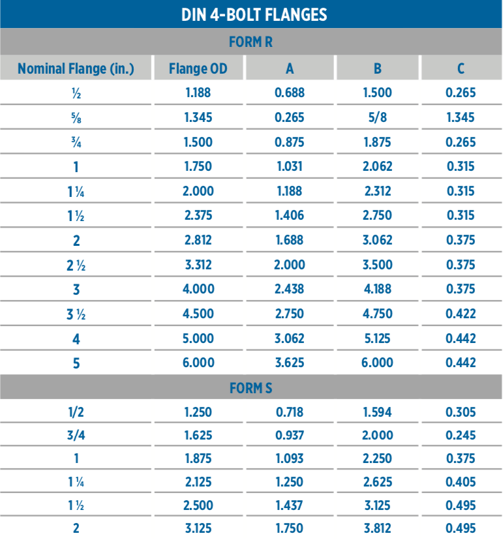 This blog is an excerpt from our latest whitepaper, Distinguishing the Different Types of International Flanges.
Primary Sources Include:
---