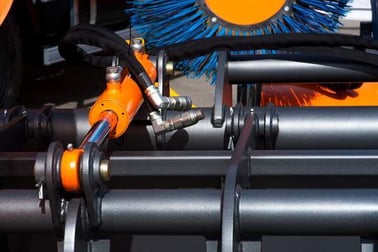 With their growing popularity globally, many U.S. OEMs are adopting DIN hose fittings.
This, combined with the rise in equipment being imported into the Americas from European manufacturers, is resulting in DIN metric fittings becoming more common in the U.S.
For decades JIC fittings have been the industry standard in the U.S. However, they are more susceptible to cracked flares from over torqueing. The mated sealing surfaces in DIN metric fittings and O-ring face seal hydraulic fittings reduce the risk of over torqueing and provide greater reliability because of the elastomeric seal in the mating surface.
As equipment design is requiring a higher pressure rating, OEMs are choosing DIN metric fittings more frequently. Though JIC and NPT fittings are commonly used in many applicable applications, in many cases they are not rated for higher pressure requirements designed into equipment today, especially coupled with high vibration. Instead, more and more applications require specially-rated metric DIN connections.
If you'd like to learn more about DIN standards, applications & specs, click here or below to download our latest whitepaper that includes comprehensive information about DIN Fittings!
If you're interested in our line of DIN Fittings, click here to download our catalog.
You can also view our product collection on our website by clicking here.
---