Knowing what to look for when choosing a hydraulic hose manufacturer will significantly improve your operations if this is a product you need frequently. While Brennan produces hydraulic system fittings, we are here to help you keep your system running efficiently overall. Therefore, these tips should help you find a quality hydraulic hose manufacturer.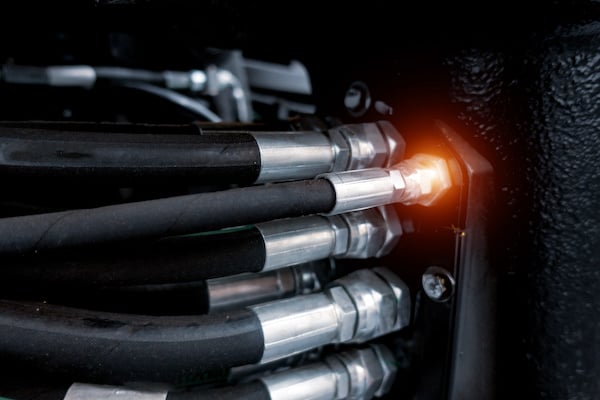 Does the hose manufacturer understand your application?
While the main functions of a system are in the valves, cylinders, pistons and other components, the hoses needed are equally important. Careful consideration is required to choose the best hydraulic hose for your application. So, ensure the manufacturer knows what is necessary to have the correct pressure rating, diameter and length for your system.
In most cases, the working pressure of hydraulic hose decreases as the diameter gets larger within a single product line. However, some hydraulic hose manufacturers may offer a convenient, single-pressure option, where all diameters have the same working pressure rating within a single product line. But Is that really what is best for your application? The manufacturer you are working with must understand the properties and construction of the hose within your system and consider:
Installation
Flexing cycles of the hose
Required abrasion resistance
The type of fluid
Types of inline fittings
Anticipated maintenance requirements
The manufacturer should understand what is safe. If a hose bursts, the results could be catastrophic. It could result in production downtime, severe injury or environmental contamination. The hose must be able to withstand a specific pressure rating. If the system is operating at a higher pressure, the hose needs to be able to do the same. The hose pressure should follow a 4:1 safety factor. For example, if the hose is rated at 4,000 psi working pressure, the burst pressure will be 16,000 psi.
Is the manufacturer reputable?
To make sure you are buying a quality product, it is essential to understand how the manufacturer keeps to standard. What types of storage and quality control do they have in place? Rubber hoses should be stored between 50 and 70°F, because heat can soften the material and cold can make it stiff and brittle. These are things to ask yourself when working with a manufacturer.
Make sure they have standardizations and are ISO certified, ensuring you are getting hose accuracy and quality. This should happen in the design and manufacturing process, as it is critical to ensure your application's specifications are met. Hydraulic systems can be complex, so the hoses must be made to withstand the necessary operating pressures, atmosphere, chemical resistance and other system specifications.
The working pressure for the hose must be accurate, so it is necessary to ensure it meets SAE, ISO, DIN and other international standards.
In addition, your manufacturer should have certified technicians and staff with the proper training and experience. Quality and dependability are everything when it comes to hydraulic hoses.
What does their inventory look like?
Because of current supply chain issues, you most likely have a concern over how quickly you will get your hose. By asking the manufacturer about their manufacturing process and overall footprint for distribution, you will get a better idea of lead times. Reducing downtime is critical, so it is essential to understand their fill rate and accuracy to ensure you get the product you need, when you need it.
Finding a quality hydraulic hose manufacturer should not be taken lightly. By asking yourself these questions, you will understand how they can help you get the product you need for your specific application requirements.