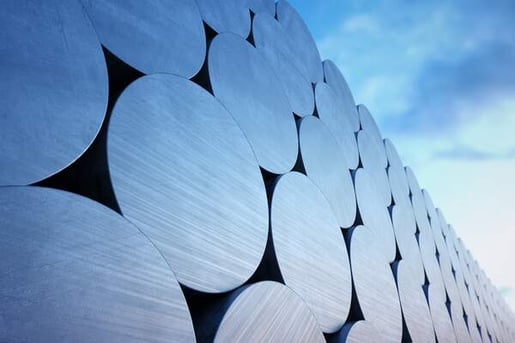 Specialty alloys range from common Stainless Steels to Super Duplex Stainless Steels.
Alloy 316/316L Stainless Steel
Though there are a variety of grades of stainless steel, such as 301, 302, 303, 304, 309, 316/316L and 321. We will focus on alloy 316/316L because of its wide use in specialty applications. Alloy 316/316L stainless steel is an austenitic molybdenum-bearing stainless steel containing nickel.
Higher molybdenum and nickel content gives better corrosion resistance than for instance 304 stainless, especially with regard to pitting and crevice corrosion in chloride and salt environments. It also provides increased strength at elevated temperatures.
The austenitic structure of 316/316L SS gives excellent toughness to the material, even at cryogenic temperatures, and its resistance to corrosion provides excellent performance in a wide range of atmospheric and corrosive environments and other media. However, when it is subjected to crevice corrosion and/or pitting in warm chloride conditions and stress corrosion cracking 316/316L stainless steel can breakdown and experience premature failure. This material was initially developed for use in paper mills, yet is frequently used in:
Brewery equipment
Chemical and petrochemical equipment
Chemical transportation containers
Fittings
Food processing equipment
Heat exchangers
Laboratory equipment
Medical implants
Nuts and bolts
Process Equipment
Ship & Boat fittings
Springs
Valves
Duplex Stainless Steels
Duplex stainless steels have a two-phase ("duplex") microstructure which consists of austenitic stainless steel and ferritic grains which makes them nearly twice as strong as regular stainless steels. Duplex stainless steels have a microstructure of approximately 50% austenite and 50% ferrite. This provides corrosion resistance greater than other common grades of stainless steels, such as 304 and 316. And because duplex stainless steels are magnetic they can be easily differentiated from common grades of stainless when there is any potential confusion.
Duplex Stainless Steel were developed around the end of World War II for the pulp and paper industry in Sweden to help resist corrosion problems from chloride-bearing cooling waters and other aggressive process fluids. They were eventually found to be very useful in applications such as:
Cargo tanks and pipe systems in chemical tankers
Components for structural design
Flue-gas cleaning
Heat exchangers
Storage tanks
Water heaters
And much more
Because of their high content of chromium, molyum and nitrogen, duplex steels offer very good localized and uniform corrosion resistance. Their unique microstructure allows for excellent abrasion, erosion and fatigue resistance and mechanical strengths that are higher than standard 304 and 316 stainless steels, plus they provide for very good weldability.
Super Duplex Stainless Steels
Super Duplex 2507 stainless steel (UNS S32750) contains 25% chromium, 4% molybdenum and 7% nickel. This alloy was first used in the 1980s when it was uniquely designed for extreme and demanding applications which necessitate extraordinary corrosion and strength resistance, such as in chemical processing, petrochemical and seawater equipment applications.
As Super Duplex SS is an austenitic-ferritic, iron chromium – nickel alloy with the addition of molybdenum, it provides very good resistance to pitting and has a higher than normal tensile strength than most other materials. When compared to conventional austenitic stainless steels Super Duplex SS provides a superior resistance to stress corrosion cracking when at moderate temperatures.
Because of its high content of chromium the alloy has excellent resistance to acids, acid chlorides, caustic solutions and other harsh environments. Common applications of super duplex stainless steels are:
Components for the pulp and paper industry
Desalination plants
Downhole drilling, exploration, logging or other deep hole O&G applications
Heat exchangers
Pollution control components
Tube & Pipe systems for petrochemical refineries
This blog post is an excerpt from our whitepaper, "Specialty Alloys: Composition & Applications". If you'd like to learn more about specialty alloy applications & specs, click here or below to download the whitepaper!
Primary Sources Include: