GAZ Poclain 24° Flange
Like Caterpillar in the U.S. and Komatsu in Japan, there is a French standard flange fitting known as the Poclain 24 flange. The Poclain flange derives its name from the Poclain excavator company, founded by Georges Bataille in France in 1927 and was a leader on the world market because of its revolutionary hydraulic motor.
Today the Poclain Group is a major manufacturer of hydrostatic transmissions.
The GAZ Poclain 24° high pressure flange is typically found on Poclain equipment. And because their hydraulic motors are in such wide use throughout the world, it is important to understand the slight, but critical differences of the flanges. The 24° flange seat is different from an SAE due to a lip that protrudes from the face of the flange. The male flange seals with a female flange or port, with a 24° seat.
Though French GAZ fittings have metric threads that are similar to the German DIN there are differences in the threads in many sizes. French GAZ Poclain flanges use fine threads in all sizes and have a lip that protrudes from the flange face that is different from SAE, Caterpillar and Komatsu flanges.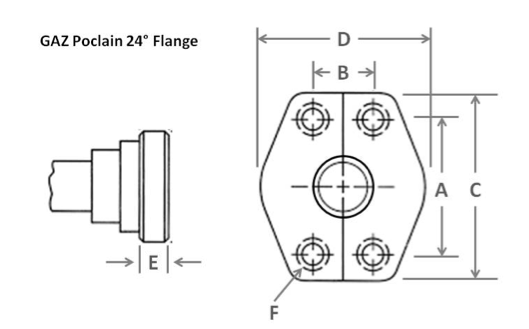 This blog is an excerpt from our latest whitepaper, Distinguishing the Different Types of International Flanges.
Primary Sources Include:
---