Did you notice that most of the hand sanitizer during the height of the COVID pandemic smelled a lot like vodka? That's because . . . it was. Many companies, from plastic sheeting to make barriers and face shields, to upholstery companies making face masks, to alcoholic beverage companies making hand sanitizer, rallied to help in the cause. Many were even supported by their state governments. In Ohio alone, thousands of manufacturers were contacted to participate, and those who joined the team were able to offer their PPE (Personal Protection Equipment) products to retailers, hospitals and the public on a state supported website exchange. Many small and temporary cottage industries were born. Though when it came to making hand sanitizer — quality was not necessarily job one. Breweries to distilleries rallied to turn their alcohol producing equipment into hand sanitizer production and fillers. Though this product is actually regulated by the FDA as an over-the-counter (non-prescription) drug, during the height of the pandemic the FDA allowed for more laxed temporary guidelines in the manufacture of hand sanitizers to keep up with demand. However, effective December 31, 2021, those companies manufacturing alcohol-based hand sanitizers under the temporary policies were required to cease production.
Commercial FDA approved hand sanitizer, along with other food & beverage product is primarily produced in equipment which incorporate stainless steel fittings and valves, filters, and pipes.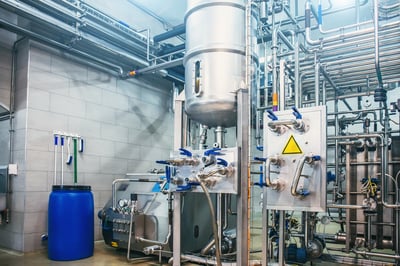 The making of food, alcoholic and other beverages, and pharmaceuticals require strict adherence to FDA regulations and guidelines to prevent contamination and preserve consistent quality. Meticulous compliance to FDA regulations is extremely critical. If product safety is compromised there could not only be dangerous issues in the supply chain, but there will also be unforeseen and costly downtime for the manufacturer. That's why instrumentation in food processing equipment is so critical in monitoring and ensuring product quality. Sanitary instrumentation fittings, valves, and sensors, along with temperature control, monitoring and recording devices are used in production, packaging and to some extent even product labeling. And most components are made from stainless steel.
Instrumentation Component Materials in Food & Beverage and Pharmaceutical
Process instrumentation components are the essential elements in manufacturing of these consumable products. And component materials of construction are paramount to maintaining sanitary conditions. That's why stainless steel is the most common material used in sanitary food processing systems. Stainless steel is cost effective, corrosion resistant and extremely durable. The table below illustrates different grades of stainless steel, along with some other materials, and their specific advantages. On the whole, the higher the grade the better corrosion resistance, but also the higher the price. However, when it comes to public safety and efficient production, the sanitary conditions of food processing instrumentation component costs should never be an issue.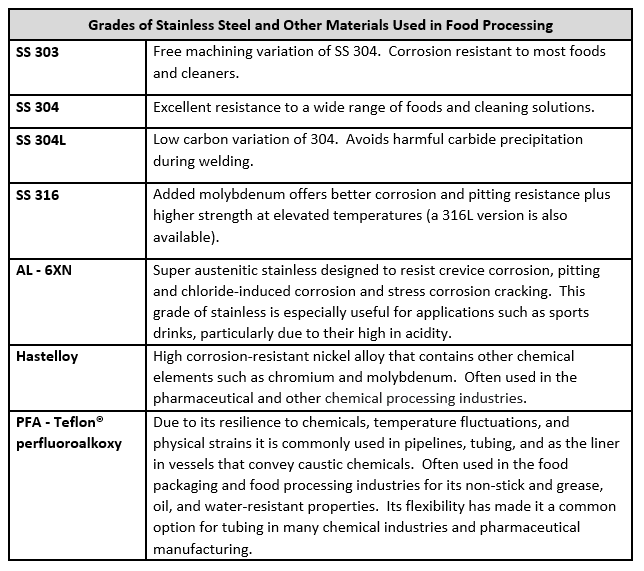 Chart source: Oklahoma State University
CASE STUDY:
API Skid Design and Manufacture: Active Pharmaceutical Ingredients - Modular System
Ham-Let Cambridge Fluid Systems works with OEMs in fluid and gas control, flow technology and value engineering. In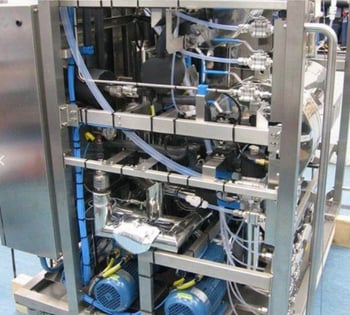 this particular case the company worked closely with a major EPCM contractor (Engineering, Procurement and Construction Management) and the pharmaceutical end user to design, manufacture, perform Factory Acceptance Testing (FAT) and install thirteen "plug & play" API Modular Pilot Plant process modules.
Working with constraints including both maximum module size and weight, process equipment was housed in mobile stainless steel frames to give maximum flexibility and optimum maintainability. Stainless steel, Hastelloy and PFA (Teflon®) pipework was installed with many lines insulated and clad.
The modules were designed to seamlessly integrate into the Pilot Plant. Remote I/O and Motor Control Cabinets are mounted on board the module. This intelligent solution provides ease of integration into the plant DCS.
3D SolidWorks® was the modelling platform of choice, providing an invaluable aid during Design Qualification (DQ) meetings, allowing stakeholders to assess the suitability of the layout, and providing a user-friendly method of line by line checking and approval.
Conclusion – Why Use Stainless Steel in Food Production?
Food & beverage and pharmaceutical products are manufactured, stored, and transported in sanitary equipment and vessels to ensure safety for product longevity and consumption. That's why most components are made of stainless steel, for:
Ease of cleaning —maintaining a clean environment is critical in the industry to reduce contamination and the spread of bacteria.
Longer service life — in most conventional conditions, stainless steel components can last for many decades when properly maintained.
Resistance to varying temperatures — with the ability to withstand fluctuations in extreme cold and hot temperatures.
Learn about what to consider when selecting instrumentation fittings, valves and tubing by downloading our whitepaper.
Sources Include: