Different Materials
There are two types of push-to-connect fitting materials commonly used; composite and brass.
Composite
The development of composite body push-to-connect fittings has provided a significant advancement over their brass counterpart. Though brass is still a common material, the polymer body and brass screw threads in a composite fitting are extremely durable and provide labor- savings, lighter weight and lower cost compared to brass push-to-connect fittings.
Typically composite push-to-connect fittings are approximately 43% lighter than the same brass fitting size. Considering there are about 60 to 100 D.O.T. fittings used on a tractor-trailer the weight savings is around 7 to 9 pounds per vehicle. This may not seem like much for one truck, yet it adds up when dealing with a large fleet. Especially considering that even the smallest reduction in weight can provide significant fuel efficiency and payload potential across an entire the fleet.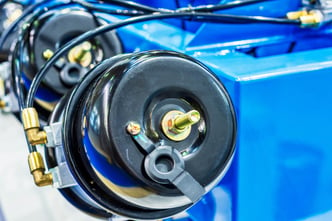 Brass
Brass body D.O.T push-to-connect fittings are a major improvement over the use of the legacy brass compression fitting. Like a composite body fitting, they reduce installation time and complexity, and still meet or exceed the performance of brass compression fittings. The internal collet and O-ring seal provides a comparatively leak-free assembly without the need for additional tools. And brass fittings do not corrode, rust or become brittle in cold temperatures. Like composite fittings, brass push-to-connect fittings are also quick and easy to assemble, reducing labor costs.
Different Styles and Configurations
The styles and configurations of push-to-connect fittings are typical to the configuration of compression fittings, which include:
Bulkhead Fittings

Elbow Fittings

Straight Fittings

Tee Fittings

Tube to NPT Fittings

Union Fittings

Y Fittings
Most of the above are available with push-to-connect at one or more ports and male or female NPT end connections the other port(s).
Specifications for D.O.T. & SAE Compliant Fittings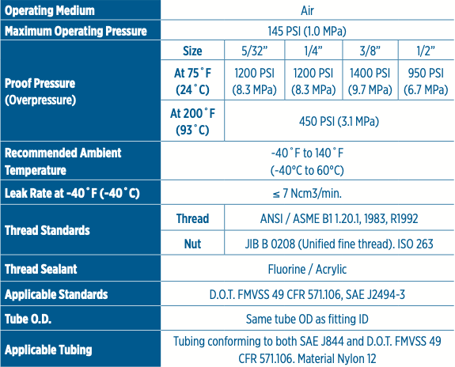 ---
This blog is an excerpt from our whitepaper, D.O.T. Push-to-Connect Fittings: Safety on Our Highways. Click the link below to download your free whitepaper!