Corrective Maintenance
System components should be inspected during preventative hydraulic maintenance to address any anticipated issue before failure occurs. Ideally the need for corrective maintenance can be identified and addressed during PM or in preparation for a scheduled or planned shutdown. Be sure any repair of components is performed properly. If not, issues may arise that can cause even greater harm.
If a component needs to be replaced before its anticipated life cycle, the reason should be documented in the PM plan and corrective measures put in place to eliminate having the issue occur in the future. The lack of proactive corrective maintenance can cause easily avoidable hydraulic component failure.
Safety First
Following proper procedures during system maintenance is critical. If a technician is not aware of the stored energy in a line and cracks open a fitting or over tightens it, the fitting can blow off or crack, releasing fluid into the atmosphere. The same can happen if a pressurized hydraulic reservoir tank is not handled according the manufacturer's maintenance requirements. The first step in ensuring safe hydraulic maintenance protocols is to isolate the system to protect the technician from hazardous energy sources. Stored hydraulic energy can be isolated with lockable or monitored isolation valves.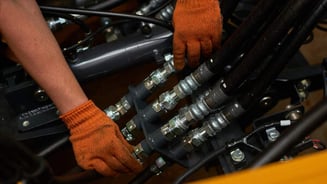 As with any fluid, especially when under pressure, it is typically very challenging to isolate hydraulic energy because it will follow any existing leak path. In the simplest of cases, most of us know what it's like to do a poor job patching a leaky roof. You'll always be chasing the leak. Yet in hydraulic systems, adherence to lockout procedures and being aware of the difficulties in controlling hydraulic pressure and isolating energy is imperative for safe machine operation and maintenance.
In the design phase, machine manufacturers integrate lockout devices to verify, control and isolate energy in the hydraulic system. Over the past decade, laws, legislation and OSHA standards have imposed regulations upon manufactures relating to hydraulic maintenance in order to ensure they are conforming to safety regulations in the design and manufacture of equipment.
---
This blog is an excerpt from our latest whitepaper, 4 Considerations for Safe Hydraulic System Maintenance. Click here or the link below to download your free whitepaper!
Primary Sources Include:
• Discharging Oil Under Pressure To The Atmosphere
• FluidPower World
• ForConstructionPros.com
• Hose Assembly Tips
• Hydraulics & Pneumatics
• Mobile Hydraulic Tips
• Mobility Work
• National Ag Safety Database
• Occupational Safety and Health Administration
• Reliabilityweb.com

---