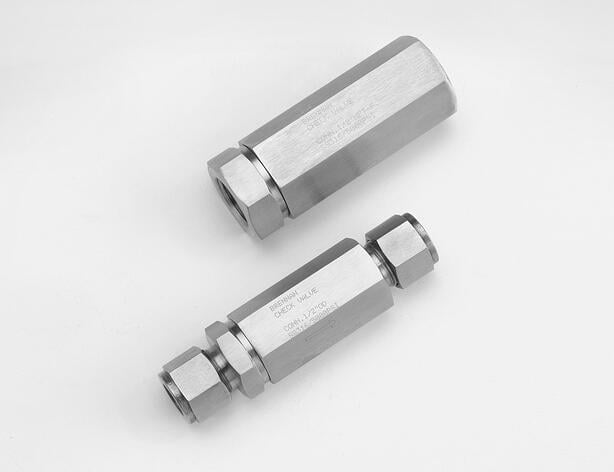 What are check valves? A check valve, non-return valve or one-way valve is a valve that normally allows fluid (liquid or gas) to flow through it in only one direction.
Check valves are two-port valves, which means that they have two openings in the body, one for fluid to enter and the other for fluid to leave. There are many different types of check valves used in a wide variety of applications in instrumentation, oil & gas installations, steam and gas turbines, low temperature gas and liquid systems and fine gas.
Check valves are often part of common household items. Although they are available in a wide range of sizes and costs, they are generally very small, simple, or inexpensive. Check valves work automatically and most are not controlled by a person or any external control; accordingly, most do not have any valve handle or stem. The bodies (external shells) of most check valves are made of plastic or metal.
One important element in check valves is the cracking pressure which is the minimum upstream pressure at which the valve will operate. Typically, the check valve is designed for and can therefore be specified for a specific cracking pressure.
Heart valves are essentially inlet and outlet check valves for the heart ventricles, since the ventricles act as pumps.
Brennan supplies check valves in a variety of different sizes ranging from 1/8" to 1", and materials including stainless steel 316, brass, SS 316L, SS316 Nace, SS 304, SS 304L & Monel 400. The valves are manufactured to withstand temperatures up to 350˚F.
Our range of check valves are equipped with a unique O-ring seat sealing arrangement that transmits pressure directly to the body and provides for zero leakage over long-life operations. The non-return range of check valves is suitable for pressures up to 4,300 psi and is available with a variety of ends. The valves undergo standard production testing as per ANSI B 16.34 and every valve is factory tested for cracking and operating functional performance.
Some information is provided by Wikipedia.