Managing Fragmentation In Construction Equipment Parts Supply Chain
According to a study by Zion Market Research "the global heavy construction equipment market was valued at $145 billion USD in 2018 and is expected to reach $231.3 billion USD by 2025, at a compound annual growth rate (CAGR) of 6.9% between 2019 and 2025."
The heavy equipment market is projected to increase considerably in the next few years, primarily due to mounting product demand in construction, oil and gas, and mining. Specific equipment product sectors projected for growth are in heavy construction vehicles, earthmoving equipment, material handling equipment and other like items.
Within the global market in 2018 the Asia Pacific region represented the largest area of growth and is expected to continue to lead worldwide share, with North America as the second largest market. North America is anticipated to grow considerably over the forecasted time period. Due to the growing demand for residential construction the U.S. is projected to continue to be the primary sector in the North American region. As residential construction expands, it is natural that commercial construction will also see measurable growth. As these sectors increase demand for road, highway and other necessary infrastructure will experience positive impacts. All of this will create further demand for the heavy equipment markets. This is good news for OEMs. However, it will place additional expectations and demands on the manufacturing supply chain.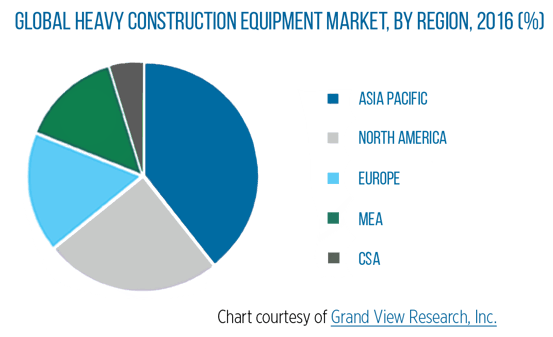 Many industries are experiencing unprecedented change, largely due to the way goods and services are manufactured, acquired and used. With cost of materials increasing, fluctuating oil and gas prices and difficulties in parts availability, the construction equipment market is one of the hardest hit in the evolving global market.
The construction equipment industry is particularly impacted by many of the pressures of global market changes, with positive indicators and significant challenges. While demand has increased, it remains highly volatile in many areas as exhibited by changes in the customer landscape and expectations
placed on OEMs. According to Jim Owens, former chairman and CEO of Caterpillar; "The choice is simple: if your customers cannot get what they need from you, they will go somewhere else. In our industry, the competitor that's best at managing the supply chain is probably going be the most successful competitor over time. It's a condition of success."
Though new and revolutionary technologies are providing increased efficiencies, there are many challenges too. Advancements in electronic data interchange (EDI) and the management of big data, plus competitors from emerging markets, are all placing increased demands on the construction equipment market. The biggest challenge in the growth and expansion of the industry is that these changes are converging all at once. And as we have stated, it is no longer just a regional market; it's an expanding global market.
This blog is an excerpt from our latest whitepaper, Fragmentation in Construction Equipment Parts Procurement. Click here or on the link below to download your free whitepaper!
Primary Sources Include: