Hydraulic hoses are the arteries of a hydraulic system. They are used in a wide variety of equipment and industries, including oil and gas, mining, construction, agriculture, manufacturing, rail, automotive, food and pharmaceutical production, and much more. Hydraulic hoses are used to convey fluid throughout a hydraulic system to provide a flexible connection between two fluid ports. They are typically required to operate under extreme temperatures, pressures or even in vacuum. Hydraulic hoses are made of reinforced rubber or thermoplastic conduit surrounded by a flexible metal or fiber wire winding, then covered with another layer of material, or made of Teflon® with a stainless braid. The wire reinforcement is braided or spiral wound and gives the hose its flexibility and strength.

In the simplest of terms, a hydraulic system consists of a reservoir, pump, cylinder and hose. The hoses in hydraulic systems carry pressurized hydraulic fluid to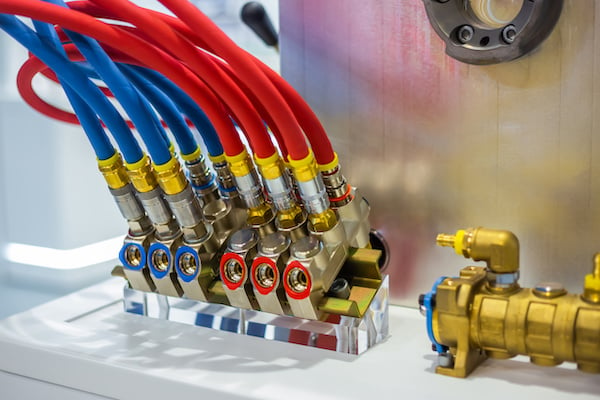 work a mechanical system by transferring energy from a pump to a cylinder or motor. In a basic example, a pump pressurizes fluid as it pulls it from a reservoir through a return line. The pressurized fluid is sent through a multi-wire hose and acts on a cylinder. As the piston in the cylinder retracts, the fluid is pushed back through a return hose into the reservoir to cool in preparation for the next cycle.
As with selection of other components in a hydraulic system such as fittings, hose selection calls for following the acronym S.T.A.M.P.E.D: Size, Temperature, Application, Media/Material, Pressure, Ends and Delivery.
When it comes to selecting the correct hydraulic hose for your application, there is an abundance of specifications used by any one manufacturer. In fact, there are as many as 19 SAE 100R specifications and many European EN specifications for hose. The specific specification should be followed when designing for a particular application, but in a practical sense it basically boils down to three options of hose material and construction:
Rubber with metal wires
Thermoplastic with textile reinforcement
Teflon with stainless braid
Once you know which you need, the rest sorts itself out. But first make sure you know three important points:
The part numbers for hydraulic hose indicate inside diameter in 16ths of an inch. For instance, -6 is 3/8" inside diameter, a -8 is 1/2", and -10 is 5/8", -16 is 1" and so on. So, using the -6 example, part number H28006 is hose spec H280 and with a -6 size, or 3/8" I.D. The specification H280 is a two-wire braided hydraulic hose with a wide range of uses in the hydraulics market.
Most hydraulic hose is rated based on a 4:1 safety factor. Therefore, the burst factor of a 3,000 PSI hose is a minimum of 12,000 PSI.
The reinforced rubber or thermoplastic conduit inside of the hose conveys the hydraulic fluid. Then, the flexible metal or fiber wire winding reinforcement provides strength and holds the pressure. The final cover protects the wire reinforcement from corrosion and abrasion.
The 3 Hose Selections

As mentioned above, there are three primary options of hose material and construction for the pressure side of a hydraulic system in most applications, and one for the return side.

#1 - Nitrile Rubber



Nitrile rubber hydraulic hoses are the most common due to their compatibility with most hydraulic fluids. They will have either a textile braid for low pressure applications under 1,000 PSI, or high tensile strength steel wire braid for pressures up to or exceeding 7,000 PSI. Steel wire reinforcement is the most common, with braids ranging from one up to six layers.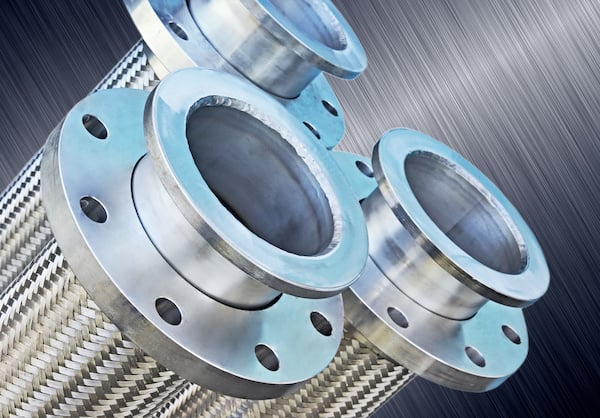 1 wire layer braid – Less common than 2-wire hose. Used in lower pressure hydraulic systems.
2 wire braid – Widely used because of its moderate price and large scope of medium pressure applications.
4 wire braid – Frequently used in heavy equipment, withstanding high pressures of 4,000 to 6,000 PSI and good for handling frequent pressure impulses.
6 wire braid – Typically used in large diameter hose requiring ultra-high pressure of up to 7,000 PSI.
Some manufacturers make hoses with particularly durable covers, for applications that require protection from severe impact and abrasion. These are often UHMW covers (ultra-high molecular weight polyethylene), which is an extremely tough plastic that has significant wear and abrasion resistance. Polyethylene is a popular plastic for numerous industrial applications requiring good chemical resistance, high durability and a low coefficient of friction.
#2 - Thermoplastic
Thermoplastic (TPU) is thermoplastic polyurethane used to make hydraulic hose. It is typically constructed of a nylon tube with synthetic fiber reinforcement and a polyurethane cover. It's typically used in common hydraulic applications, such as basic material handling equipment and near electrical systems because of its low conductivity, like on bucket lifts that repair power lines. It is often used in applications where wire reinforcements are not applicable and can handle pressures similar to 1 and 2 braided wire hoses. The polyurethane cover withstands abrasion and is frequently used near chain rollers on a forklift.
Thermoplastic hydraulic hose has the durability and strength of plastic, with the flexibility of rubber. It is an extremely versatile material that can withstand temperatures up to 275°F (135°C). They are frequently used in high-pressure hydraulic systems, chemical gas processing and other applications requiring pressurized gas conveyance.
#3 - Teflon/PTFE
PTFE is the generic formula in DuPont's Teflon material. PTFE hydraulic hose is made up of a Teflon tube and stainless-steel braid reinforcement, which doesn't require a cover as the stainless braid will not corrode in most conditions. Teflon hose is used in applications for chemical compatibility, corrosion resistance and in high temperatures of up to 450°F (232°C).
When specifying Teflon hose, you should consider the size and bend radius. The size is typically 1/16" smaller than the part number shown. For instance, for other hose materials a -6 is 3/8", however for Teflon it's 5/16".
In addition, the bend radius is not as tight as other hose materials. Teflon hose is a hard plastic-- and if bent until it kinks, there will be a weak section and the hose will be damaged.
Hydraulic Return Hose
The return line is intended to handle suction and sends hydraulic fluid back to the system. A hydraulic return hose is typically rubber tube with textile braid, allowing positive pressure with a helical wire to permit suction.
Conclusion
Proper hydraulic hose selection is imperative to a safe and reliable system. Just as important is the correct selection of hydraulic fittings and their proper connection to the hose in order to safely fulfill the application requirements.
Sources Include: