Applications & Benefits of Push to Connect Fittings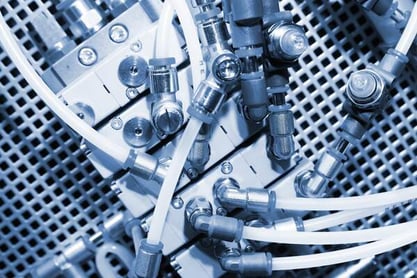 Most of us have never had this happen. Many years ago I was pulling away from the gas pump and I heard a pop-bang noise and then the sound of scraping as though I was pulling something. I jumped out of my car to find the gas hose lying on the ground sticking out of my car. I started to panic. I looked at the pump expecting gas to be shooting out at high pressure. Surely the entire gas station was about to explode. But nothing happened. Still freaked out that I broke it, I went inside. With obvious fear in my voice I explained what happened to the woman behind the counter. She laughed and said not to worry about it.
She walked outside, picked up the hose and snapped it back into the pump. It was still some time before I stopped shaking. I learned that a gas pump hose has an inline breakaway connection. Having worked in the valve & fitting industry, I was very familiar with Push to Connect fittings and quick-connect fittings. But I never knew a similar connection was on a gas pump. Great idea. Wish I had thought of that. But don't try it at home, or at the gas station. I suppose if you pulled away fast enough it might really break something.
Push to Connect Saves Time and Money
When it comes to low pressure instrumentation and plumbing applications of many kinds, saving time and ease of installation are the prime reasons for using Push to Connect fittings. These couplings are referred to in many ways; Push to Connect, push-to-pull, push-in, push-fit, quick-release and instant fittings are common names for a type connection that is an easily removed fitting which allows an air, gas or liquid flow line to be attached and reattached without the use of tools.
However, there are two primary styles of "quick-release" fittings which have distinct differences in application. First: Push to Connect fittings, which are typically used for low-flow/pressure tubing applications. Second: Quick-connect fittings, which are used in higher pressure pneumatic, hydraulic, gas, steam, and vacuum applications.
If you'd like to learn more about PTC standards, applications & specs, click here or below to download our latest whitepaper that includes comprehensive information about PTC Fittings!
Sources:
Brennan, Inc.: Versa Fittings

Yukon Department of Highways and Public Works