PEX refers to cross-linked polyethylene. Polyethylene is a thermoplastic polymer with a variable crystalline structure and a vast range of applications and is one of the most widely produced plastics in the world. The two primary types are low density (LDPE) and high density (HDPE). Where LDPE is used in film applications ranging from trash bags to frozen food packaging, HDPE is more tightly packed and stiffer than LDPE. Therefore, PEX fittings and tubing are made from HDPE.

PEX fittings are barbed at one or more end connections and may have male or female pipe thread, or compression fitting at the opposite connection to serve as adapters. They are used to connect sections of PEX tubing, PEX tubing to copper tube, PEX tubing to manifolds, and PEX tubing to faucets & fixtures, among other applications. These fittings are primarily made of brass or poly (plastic), yet are sometimes made of bronze, and even stainless steel for highly corrosive applications. And as referred to above, there are many types, including crimp, push-to-connect, compression, expansion, and press fit PEX fittings.

There is some debate between poly (plastic) versus brass PEX fittings. Some users maintain one is better than the other for most applications. However, it is best to consider which to use based on the specific application.  
Brass PEX Fittings
Brass its typically the best choice when the application demands a stronger fitting. In addition, plastic PEX fittings have a thicker wall requirement under ASTM2159 Standard, resulting in a reduced ID which restricts flow, while brass PEX fittings are manufactured to ASTM F1807 allowing for a larger flow passage.  There can be a significant flow restriction if using plastic PEX fittings throughout the entire system as illustrated in the chart below. It is also important to note that plastic PEX can deteriorate if exposed to high levels of UV, which limits any outdoor application where the fittings and pipe are exposed.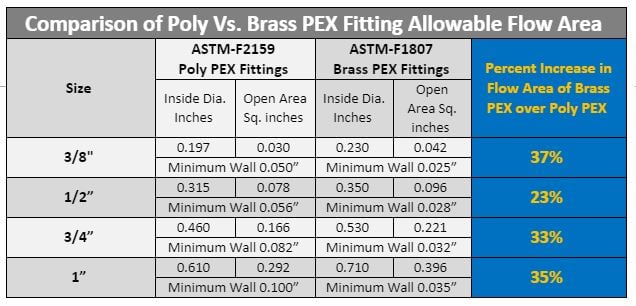 Poly PEX Fittings
There are many applications where plastic is the best choice over brass. For example, when there is poor water quality or other corrosive materials in the line, plastic is the superior choice because brass is more apt to corrode. And the high zinc levels in brass PEX fittings, combined with a thinner wall structure, can exasperate corrosion issues due to the dezincification associated with high zinc alloys. In addition, brass is particularly prone to heat loss. Poly PEX fittings are also much less expensive than brass, and much lighter in weight which reduces the need to secure the line at as many intervals as when using brass.
Applications
PEX fittings are common in water conveyance, hydronic radiant heating, baseboard and fan coil delivery systems, snow melting systems and permafrost protection, radiant cooling systems and residential fire sprinkling systems. PEX fittings and tube can also be found in many industrial and food & beverage applications.



Sources Include: