Which is a better hydraulic fitting, a JIC 37° flare or an O-ring face seal?
It's like asking if a Mercedes-Maybach S is better than a Porsche 911 Turbo. They're both over $200,000 with all the features, each gets lousy gas mileage and can go from zero to 60 mph in the blink of an eye. However, they each have different applications. The Maybach is a high-powered 4-door classic sedan, while the Porsche is a high-powered 2-door sports car. They both get you there fast-- but in one you arrive with class, the other you arrive in style. You can guess which is which.
In all transparency, most people don't have a Mercedes-Maybach or a Porsche 911. You may prefer an Aston Martin, but drive a Ford.
This analogy can similarly be applied to hydraulic fittings. Neither JIC nor ORFS are better than the other-- they simply serve two different purposes.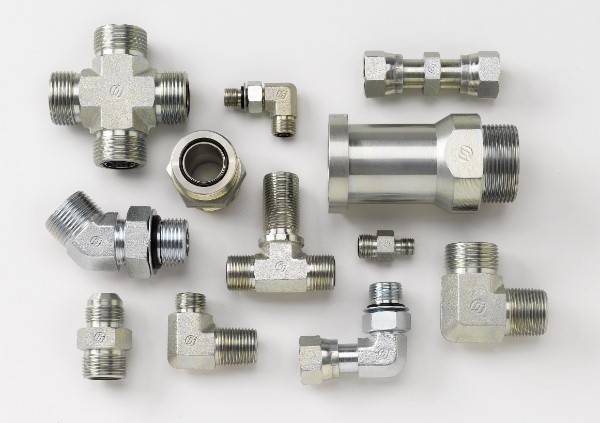 JIC fittings have a 37° flare cone that makes a metal-to-metal seal and are the most common hydraulic connection style. Their parallel threads and 37° cone on the fitting end attach to either a flared tube or hose fitting as an adapter for female SAE swivels, providing extra flexibility within the system.
SAE J514 hydraulic fittings are specified by ISO 8434-2 for general and dimensional requirements in the design and performance of these 37° flared connectors. They are used with ferrous and non-ferrous tubes, with outside diameters ranging from 15/64" (6 mm) to 2" (50.8 mm). They are widely used in fuel delivery and fluid power applications at pressures up to 7,700 PSI, and at temperatures ranging from -425°F (-254°C) to 1200°F (649°C) with stainless steel bodies. JIC 37° flare fittings can withstand minor to moderate vibration in most applications. However, some special designs utilizing exotic materials can withstand even higher temperature, pressure and vibration.
JIC fittings incorporate United National Fine (UNF) straight threads and a 37° flare seating surface to form the seal, instead of an O-ring or tapered threads. They provide metal-to-metal contact of the 37° fitting nose's finished surface and the matching cone shape inside the flared tubing.
JIC fittings have long been the industry standard in hydraulics, due to dynamic sealing properties, affordability and wide range of styles and sizes. They are a popular fitting for construction and agricultural equipment, heavy industrial machinery, the aerospace and automotive industries, and many other applications.
Advantages of JIC fittings:
Affordability
Connectivity to virtually any hydraulic system
Excellent high and low temperature performance at high pressures
Universally accepted in most hydraulic applications
JIC fittings are most used in the military, aerospace, and plumbing industries.

ORFS fittings are O-ring flat faced fittings designed to eliminate leaks in high pressure hydraulic systems. They incorporate a recessed O-ring at the face of the fitting, with straight threads and a machined groove in the face of the male fitting to accept the O-ring. Their flat sealing surface reduces the risk of over-torquing and the recessed seal prevents leakage.
SAE J1453 ORFS hydraulic fittings are specified by ISO 8434-3 as the standard for O-ring face seal fittings. The ISO 8434-3 standard is for fluid power metallic tube connections and general use defined as Part 3: O-ring face seal connectors. ORFS fittings are frequently used in fluid and gas transfer in vibration condition system applications of up to 6,000 PSI. Stainless steel fitting bodies can withstand temperatures of -425°F (-254°C) to 1200°F (649°C). However, the O-ring is what dictates the temperature rating for the assembly, with the highest rated standard material being EPDM SAE J515 Type II O-rings at -65°F (-53°C) to 300°F (148°C). For less extreme temperatures, ORFS O-ring materials are typically FKM/Viton® or Buna-N/Nitrile.
Because ORFS fittings provide excellent sealing, it is one of the best choices for most high vibration applications.
Advantages of O-ring face seal fittings:
Easy to assemble
Excellent vibration resistance
Higher pressure rating
Unlimited reusability
Zero-gap component
Industries that commonly use ORFS fittings include shipbuilding, petrochemical and off-road, construction and agricultural equipment.
Note: As in all fitting types, different materials will have different pressure and temperature ratings. Be sure to follow the manufacturer's standards.

Sources Include: