The term bulkhead was originally used to describe any watertight compartment or wall in a ship or submarine. Bulkhead fittings were used in the installation of pipes and hoses passing through a ship's internal walls. Today the concept is the same, but the applications are much broader. Hydraulic bulkhead fittings are sometimes known as tank adapters and used in fluid and gas transfer through the bulkhead of a tank wall, panel, steel plate or any barrier that a hydraulic hose or pipe, or instrumentation tubing needs to egress. Like other hydraulic fittings, they connect two hoses or tubes in a fluid system. However, their unique difference is to provide the ability to run hydraulic hose through any barrier, often from inside a pressurized vessel or tank, out to normal atmospheric conditions connecting to other components in the hydraulic system.
One end of the fitting has extended threads that are inserted into a hole in the barrier. On the opposite side of the barrier, a locknut is threaded onto the extended thread to secure the fitting and allow a leak tight seal. Bulkhead fittings can be used to provide an air or watertight seal between the two sides of the barrier, or simply to secure the hydraulic hose, pipe or tube to the barrier, allowing an uninterrupted flow of fluid or gas.
Hydraulic bulkhead fittings permit the free flow of liquid into or out of tanks, through panels, into enclosure boxes or even through the floor of a truck. They are also used as distribution outlets in a variety of piping systems for drum drainage and many other plumbing connections.
Bulkhead fittings come in unions, 45° and 90° elbows, and tee configurations. Once the fitting is installed into the barrier, the hydraulic hoses or adaptors are connected to the fitting on both sides. The result is a continuous flow through an otherwise obstructive barrier.
Thread Types
There are not any limitations of bulkhead fitting thread types. NPT, JIC 37° Flare, O-ring Face Seal, O-ring Boss, DIN and BSP are all available on bulkhead fittings.
Applications & Materials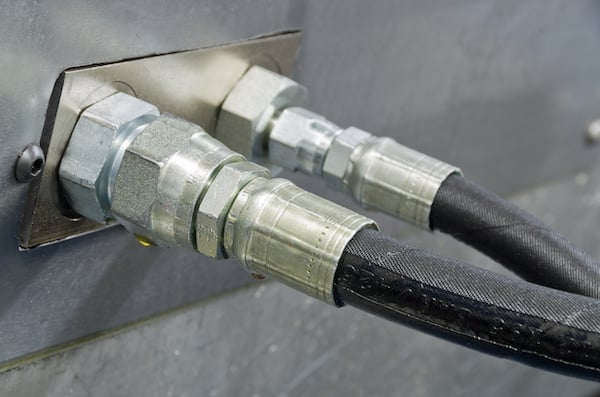 Hydraulic bulkhead fittings allow for connection to:
Internal pumps in a tank

Two hoses or tubes in a fluid system that require passing through a

barrier

Hoses to valves,

pumps

and cylinders

Air or watertight bulkheads in tanks or ships

Floors and walls of trucks,

aircraft

and military vehicles
They are used in almost every industry, including:
Aerospace

Automotive

C

hemical processing

Construction and agricultural

Mining

Oil & gas

Pulp & paper
Bulkhead hydraulic fittings are available in a wide variety of sizes and materials, withstanding the same rigorous applications of other hydraulic fittings. They can be attached to other hydraulic adapters, such as swivels and elbows, for laying hose in tight areas or making multiple connections to other fitting styles.
Whatever your application, hydraulic bulkhead fittings are an integral component in many hydraulic and instrumentation systems.