As we are all aware, current supply chains in virtually all product categories are experiencing severe disruptions, backlogs, and instability due to labor and material shortages, with most U.S. ports bottlenecked to historical proportions.
Many large industrial distributors and manufacturers, both large and small, have been experiencing supply chain challenges since the pandemic began in March 2020, with some being hit harder than others. In fact, commodity products such as fittings and fasteners are suffering more than most.
The CEO of one very large fastener and broadline distributor was recently outspoken regarding the company's current challenges in procuring and moving fastener inventory, including the impact of inflation on their market.
However, some industrial distributors have been fortunate by quickly building scale and making advancements in digitization to create a more seamless, omnichannel experience for their customers. Yet slower moving distributors are struggling, and some may go the way of Borders and Blockbuster. There is still a demand for books and movies, but other delivery models have taken over.
Those broadline distributors and the manufacturers of hydraulic fittings who have built scale and made advancements in digitizing communications that keep both sides operating to fulfill the needs of the end user will rise above the fold. They are playing their role in reinforcing the hydraulic fittings market. An often unrecognized yet integral part of the global economy, hydraulic fittings are responsible for the operation of construction and agricultural equipment and industrial machinery. The hydraulic fittings market is expected to reach $1.89 billion by 2026 from $1.38 billion in 2020. Though it's a modest growth of 5.4% CGAR during the forecasted period, this product market remains healthy. Key growth markets for hydraulics are in the US, Germany, and the UK, yet the APAC (Asia-Pacific) region is experiencing the highest growth rate.
Largely influenced by China, their developments in farming have played a key role in supporting the growth of what is now the largest population in the world, and the largest agricultural sector. China has 7% of the arable land and with that, they feed 22% of the world's population.
Taking this into account, plus the vast construction initiatives in China over the past 30 years has consistently made this region the highest for demand of equipment and thus hydraulics.
The primary growth of the global hydraulic fittings and hose market is in direct correlation to the increased demand for construction equipment and the growing mechanization in agriculture. In regard to agricultural equipment, with the world's growing population, so has the demand for equipment such as combine harvesters, haying machines, tillers and particularly tractors. There is a significant number of hydraulic fittings and hose used in fluid power and conveyance on all of these machines. These fittings are used for an untold number of applications, from operating the intake auger on a combine, to frontend loader buckets, hydraulic brakes and much more.
Market Segmentation, the Competitive Landscape and Channels to Market
When we look at the segmentation of the hydraulic fittings market, we must consider type and application, and the role of manufacturers and distributors.
Hydraulic fittings are made from one of four primary materials:
Steel (including stainless, Monel and other exotic alloys)
Brass
Aluminum
Plastics
Primary application types include:
Adding or changing direction
Connecting hose, pipes or tubing of smaller size
Extending or terminating pipe lengths
Providing connections to other devices or components
Competitive Landscape and Channels to Market:
Though a few manufacturers of hydraulic fittings primarily sell direct to the end user, the majority of producers sell through distribution. Some of these distributors focus largely on hydraulics, while most others are broad line distributors selling everything from safety supplies to abrasives and of course hydraulic fittings and hose.
The primary advantages of selling through distribution includes their extensive reach with local branches, and ability to provide value added services, like inside CSRs and outside service engineers. In addition, broad line distributors carry a wide array of products providing the end user with a one-stop shop for all of their industrial product needs.
With growth projections of over $500 million over the next several years the global hydraulic fitting market is still fragmented, with many suppliers in the market competing to play their part in the segment's expansion. The extensive competition of manufacturers and distributors includes major players such as: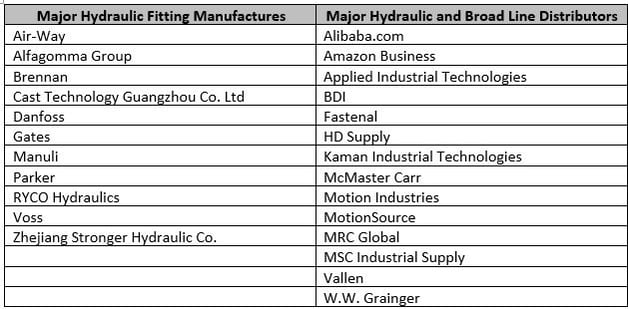 These organizations are the predominant manufacturers and distributors in the global hydraulic fittings market. With the overall strength and flexibility of these companies and others, the market is not only stable, but able to expand and serve the end user with exceptional products and services.